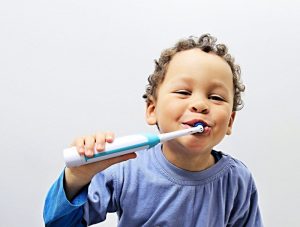 Your child's smile is precious; it's important that they get quality family dentistry in West Orange and learn good oral hygiene early in life. Naturally, this includes making sure they begin brushing as early as possible. But with so many different brands of toothpaste, it can be difficult to walk down the aisle in the grocery store and find exactly what you need. After all, toothpaste is a medicine, and choosing the right kind can make a difference in your child's health. Here are some tips to consider when picking toothpaste for a toddler.
Does the Toothpaste Contain Fluoride?
Fluoride is an important mineral for keeping your teeth healthy; in fact, the water you drink every day has a little bit of fluoride in it. Many types of toothpaste also contain it, which helps provide great protection for your toddler's teeth.
However, swallowing too much fluoride toothpaste can be harmful and may lead to a condition called fluorosis, where white or brown spots appear on the teeth. If your child hasn't learned to spit after brushing yet, use fluoride-free toothpastes until they're old enough to do so without supervision.
Is the Toothpaste Too Abrasive?
It may be tempting to buy your toddler a toothpaste that promises whitening, but this can often be a signal that it contains abrasives that can be hard on the surface of the tooth. Young teeth are particularly vulnerable, so be sure to get non-abrasive toothpaste. (For the same reason, you should always use a soft bristled toothbrush on your toddler's teeth.)
Is the Toothpaste ADA Approved?
The American Dental Association (ADA) will put their seal of approval on toothpastes that have passed their standards of safety. If you're worried whether a brand will be safe for your child, look for this seal.
What Flavor is the Toothpaste?
While flavor really doesn't affect how well toothpaste protects your toddler's teeth, remember that it's important for your child to develop good brushing habits as early as possible. Some children don't like traditional mint flavors, finding them too spicy. Choosing a flavor that your child likes can make brushing more enjoyable; you may also look for brands that have their favorite characters on them.
It's always a good idea to read the labels for the toothpaste you buy for your toddler; you should also speak with your children's dentist in West Orange to get the details when buying new brands. Your child's teeth need to last them a lifetime, and you can help by getting the right tools for the job!
About the Practice
At D&G Dental, two general dentists and a certified oral and maxillofacial surgeon combine their strengths and unique expertise to provide patient-friendly care that focuses on building relationships. They provide preventive care and other dental services to children of all ages. To make an appointment for your toddler, visit their website or call (973) 731-2200.