Veneers – West Orange, NJ
Make the Most of Your Smile
When you're considering a smile makeover, you'll want to learn more about dental veneers. For decades now, veneers have offered everyday people access to Hollywood smiles using natural-looking material to cover imperfections. At D&G Dental of West Orange, we can provide you the perfect way to overcome aesthetic imperfections and make the most of your smile. Give us a call to learn more or to get started with an initial consultation for veneers in West Orange!
Why Choose D&G Dental of West Orange for Veneers?
Dramatic Smile Makeovers in Just Two Appointments
Always Customized to a Patient's Exact Specifications
Improves Appearance & Strength of Teeth Simultaneously
What Are Dental Veneers?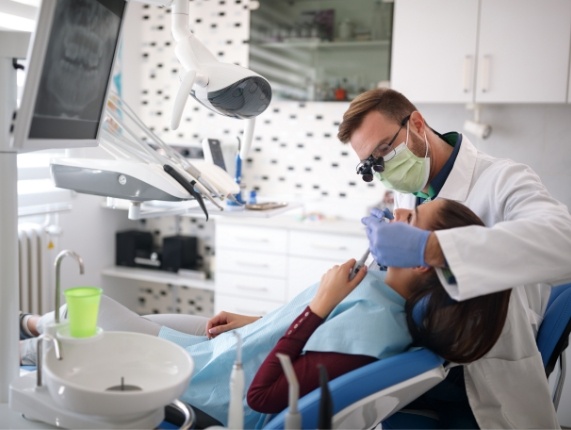 Dental veneers are thin, tooth-colored restorations that fit over the front of natural teeth. Unlike dental crowns, veneers don't cap the entire tooth. Instead, they're a cosmetic fix, permanently bonded to the teeth to enhance appearance while allowing normal function. Veneers are able to cover up teeth that are chipped, stained, gapped, crooked, or worn. Porcelain looks very much like natural tooth enamel, and it's stain resistant. Better yet, your dental veneers from our West Orange cosmetic dentists will be hand-crafted just for you by an experienced and talented dental lab technician. They can even be modified to meet your specifications for shape, size, and color, leading to the best possible results.
The Process of Getting Veneers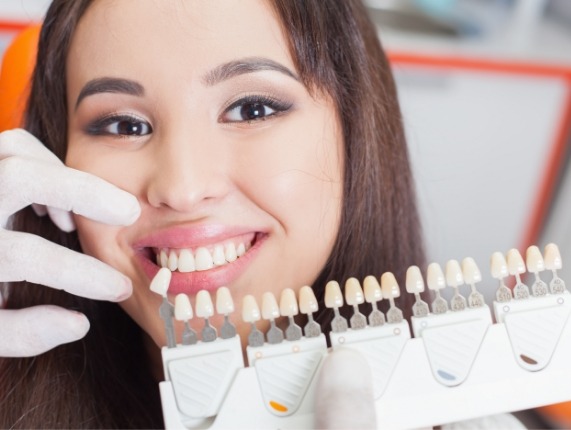 The first thing you need to do if you're interested in exploring the possibility of a smile makeover with veneers is to make an appointment for a complete consultation with us. During this appointment, we'll make sure your smile is healthy enough to support veneers and discuss what you hope to get out of your cosmetic dental treatment.
Once we've determined that you make a good candidate for the procedure, we'll prepare your teeth for your veneers. This involves removing a tiny amount of tooth enamel, just enough to allow room for the very thin veneer. Impressions will be made of the prepared teeth so the veneers will be a perfect fit, and temporary veneers will be placed to protect them.
The information collected is sent to a dental lab, and a technician handcrafts the veneers just for you. Once your veneers have been returned to our office from the lab, you simply come back to our West Orange dental office so we can bond them to the front of your teeth.
The Benefits of Veneers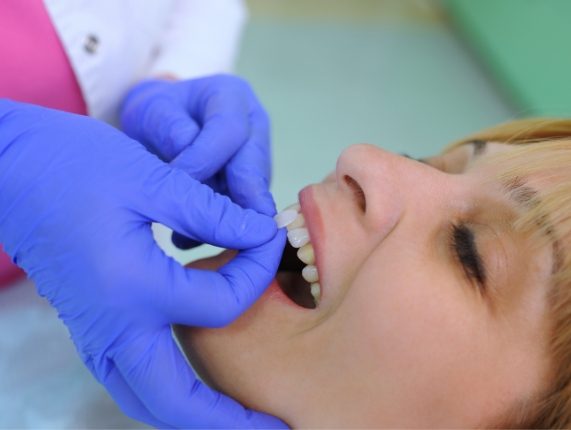 Veneers have become increasingly popular because of their numerous benefits. Here are just some of the ones you can expect too experience:
Natural appearance: The materials we use make veneers look just like natural tooth enamel.
Simple procedure: Veneers typically require just two visits.
Brighter smile: Veneers are more resistant than natural teeth when it comes to staining. You don't need to worry about staining from coffee, red wine, or other dark-colored beverages.
Long-lasting: With proper maintenance, veneers can last upwards of 15 years.
Understanding the Cost of Veneers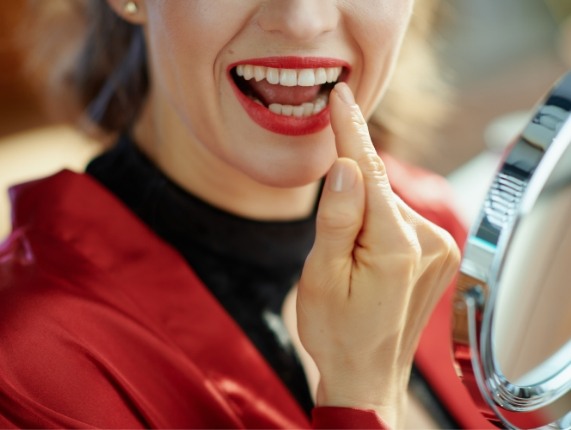 Veneers are an excellent option for those who are looking for a more dramatic smile makeover. However, they aren't necessarily the best option for every patient. Before you can determine whether or not they are the best cosmetic solution for you, it's important that you consider their cost. By choosing a trusted dentist and investing in high quality veneers, you can work towards the smile of your dreams. However, they aren't the only option you have. Continue reading so you can make an informed decision about the future of your smile.
Cost vs. Cosmetic Dentistry: What's Right for Me?
Often, patients believe that veneers are the perfect option at first. However, it's important that you explore all of your options to see how each one would affect your smile. They all have different price points and can help to achieve a variety of different goals. Here are just a few of the more common options:
Invisalign – Invisalign is an excellent option when it comes to correcting misalignment issues. This treatment does cost several thousands of dollars, but it is one of the best ways to fix overbites, underbites, crooked teeth, and more!
Teeth Whitening –Professional teeth whitening is a quick, yet effective solution for surface discoloration. It is a lot more affordable than many other cosmetic options. Just remember that it doesn't address any cosmetic imperfections other than staining. Results can last anywhere between a couple months to a few years depending on how well you care for them.
Direct Bonding – This minimally invasive procedure can be completed in a single visit, and it's one of the most affordable cosmetic treatments out there. It's great for correcting minor flaws, like small chips and stains. Bonding can last anywhere between 3 to 10 years or longer with proper maintenance.
Veneers – Veneers aren't the cheapest cosmetic service out there, but it's the easiest way to transform numerous aspects of your smile at the same time. This includes the shape, color, and minor crookedness. The whole process can be completed in as little as two appointments and results last up to 15 years or longer!
How to Make Veneers Affordable
Veneers are considered to be an elective procedure, so they aren't usually covered by dental insurance plans. However, this doesn't necessarily mean that you're completely out of luck. We work with CareCredit – a third-party financing company that can break the cost of your treatment into manageable monthly installments with little-to-no interest. To learn more, talk to one of our friendly team members.
To learn exactly how much you can expect to pay for your veneers, schedule a consultation with us. We're eager to help you achieve the smile of your dreams!
Veneer FAQs
If you're looking for a way to mask cosmetic imperfections that litter your smile, veneers in West Orange could be a viable option for you. However, it pays to be well-informed before jumping into a cosmetic dentistry procedure of any kind. Here are the answers to some of the most common questions we are asked about veneers. If you don't see the information that you're looking for below, don't worry. Give us a call and we'd be happy to answer your questions and get you started with an initial consultation where you can learn more.
Are veneers permanent?
Veneers aren't technically permanent since they will eventually need to be replaced. However, they are considered to be irreversible. To ensure that veneers fit properly, small amounts of enamel have to be filed away. Removed enamel does not grow back, so teeth that have been prepared in this way will always need to be covered with crowns or veneers.
Will I still be able to drink coffee with veneers?
Veneers that are made from porcelain are stain resistant. Porcelain is a nonporous material, so the particles in dark-colored foods and beverages have a harder time slipping beneath the surface. Ultimately, you should be able to drink coffee without worrying too much about staining your veneers. Just remember that veneers aren't stain proof, so excessive consumption of coffee can still have a negative impact over time. Moderation is key.
How many veneers will I need?
The goal of veneers is for all of your visible teeth to match, so you'll receive an appropriate number to accomplish this goal. Some people opt for a single veneer to cover one pesky tooth while others get anywhere from 6 to 12 for a more complete smile makeover. During your initial consultation with us, we will discuss the goals you have for your smile so we can come up with the magic number for you.
Can you whiten veneers?
Whitening procedures don't have any effect on veneers even if they've been stained, so if you are unhappy with their color, they will need to be either shaded or replaced. However, whitening treatment will still affect the natural enamel surround the veneers, so it can result in an uneven tone of your smile. Ultimately, if you're planning on having both whitening and veneers, you should start with the whitening so the veneers can be color matched to blend in perfectly with the rest of your smile.