Emergency Dentist – West Orange, NJ
Urgent Dental Care Right When You Need It
A dental emergency can happen in the blink of an eye. A fly ball at the weekend softball game turns your fun afternoon into a painful evening, or your evening bike ride is cut short by an unexpected pothole that sends you over the handlebars. Whatever the cause, dental emergencies can be sudden, terrifying, and inconvenient to say the least. What patients of all ages need most in this situation is a trusted team to fall back on for expert care and friendly support, and that's just what we can provide for you here at D&G Dental of West Orange.
Dr. Dawoud and Dr. Gencarelli will do everything in their power to provide same-day service that gives you the relief you need as quickly as possible. We have one conveniently located emergency dental office in West Orange, and patients from Verona, Roseland, Cedar Grove, and other northern New Jersey communities are also welcome. Don't wait – contact us right away for emergency dental assistance!
Why Choose D&G Dental of West Orange for Emergency Dentistry?
Same-Day Emergency Dental Appointments
Dental Sedation Available for Anxious Patients
Highly Skilled & Experienced Dental Team
How We Treat Dental Emergencies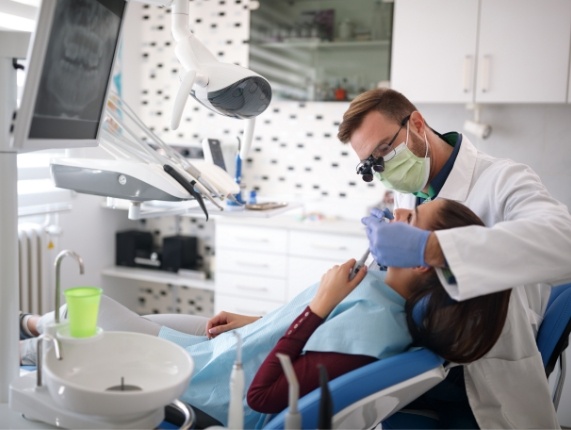 Call Us: The most important thing you can do during a dental emergency is call our team for help. When you call, one of our trusted team members will walk you through first aid steps over the phone and schedule an appointment time for you to visit us as soon as possible.
Have Your Mouth Examined: When you arrive for your appointment, you'll receive a thorough physical and visual oral examination from your emergency dentist. If necessary, we'll also capture digital X-rays to view the area of your mouth that isn't visible to the naked eye.
Discuss Treatment Plan: Based on our findings during your examination, we'll be able to diagnose the problem and present you with a comprehensive treatment plan. Before you consent to move forward with our recommendations, we'll be sure to answer any questions you may have.
Address the Issue At-Hand: As soon as you agree to our treatment plan, our team will work quickly to restore your smile and get you out of pain.
The Most Common Dental Emergencies
It can be difficult to know when it's time to seek out emergency dental care. That's why our team always recommends calling us whenever you notice out-of-the-ordinary symptoms or experience dental pain. We're happy to help you take the next best steps to ease your discomfort and preserve the health of your smile.

Toothaches

Chipped
Tooth

Cracked
Tooth

Sensitivity to
Hot & Cold

Knocked-Out
Tooth

Lost Filling
or Crown

Broken
Denture

Loose
Tooth

Gums, Lip or
Tongue Injury

Jaw Pain or
Clenching

Something Stuck
Between Teeth
Understanding the Cost of Dental Emergencies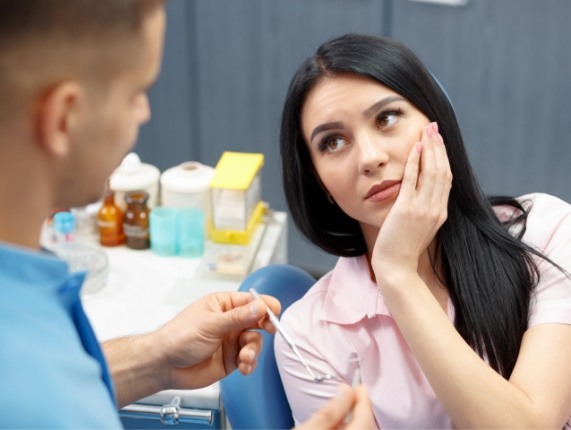 While dental emergencies can happen out of nowhere, they should never be ignored just because of cost. The price you pay for treatment largely depends on what type of dental emergency you are dealing with and what the best treatment option is for that emergency. For example, some emergencies only need a filling or crown to address, while more severe problems require an extraction or root canal therapy. We'll work with you directly to determine the best financing option based on your needs.
Keys to Preventing Dental Emergencies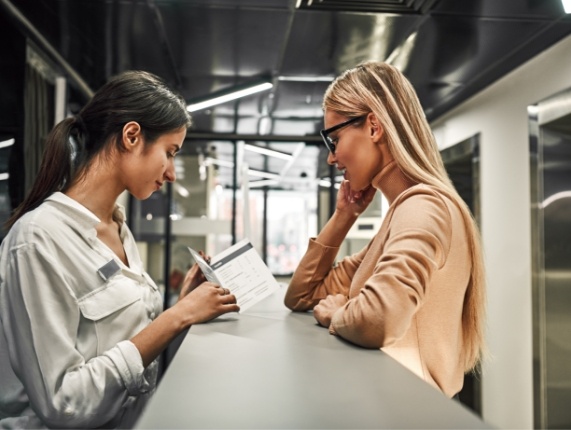 While there are many dental emergencies that simply can't be avoided, our patients can take steps to protect themselves from dental emergencies and oral damage. Some of the easiest ways to avoid urgent situations include:
Take special care when eating foods that are particularly hard or sticky, and don't chew the ice in your drink.
Don't use teeth to crack nuts.
Always use scissors instead of your teeth to open difficult packaging.
Wear a sportsguard when participating in athletic activities where any kind of contact can occur with other players, hard surfaces, or sporting equipment.
Use a mouthguard as directed to protect teeth from nighttime teeth grinding and clenching.
Brush teeth for at least two minutes at a time twice a day and floss daily.
Attend regular dental checkups and cleanings with our team to prevent minor oral health concerns from turning into major dental work.