Meet Our Dental Team
At D&G Dental, we know that world-class dentistry is always a team effort. Every member of our team was personally selected by our dentists based on their training, experience, and friendly personality. Whenever you come to see us, they'll make sure you have a smooth and stress-free experience from check-in to checkout, ensuring you leave feeling refreshed and renewed every time. Read on below to start getting to know our fantastic team here at D&G Dental!
Our West Orange Dental Team
Donna, Regional Manager
Donna is from the Woodbridge area, and she's been working in dentistry for nearly 40 years now. She truly loves her job! Getting to meet wonderful patients and help them maintain their dental health is always a joy. For her education, she attended Rutgers University and has also undergone advanced training in CPR, dental finance, and CareCredit.
Donna is married and has three grown children, one grandson, and a dog named Reilly. Her hobbies include traveling, sewing, reading, and spending quality time with family.
One interesting fact about Donna: She held public office in her town for a decade!
Giovanna, Receptionist
Nadia, Dental Hygienist
Samantha RDA, CDA, Dental Assistant
Melissa, Dental Assistant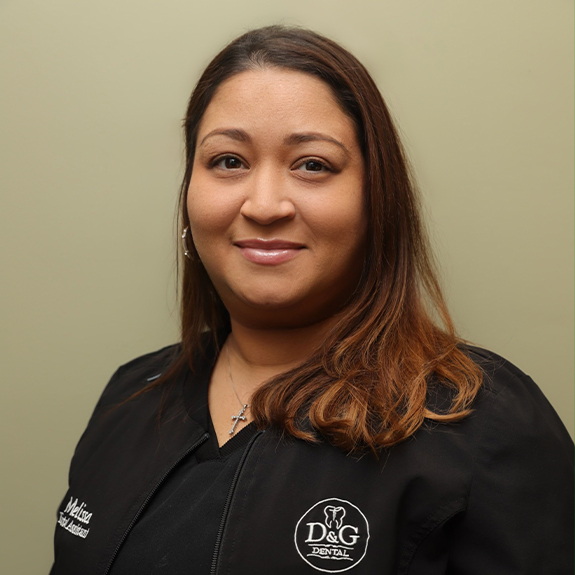 Melissa's career in dentistry spans nearly 25 years now, and she has worked for Dr. Dawoud for well over half of them. Originally from Woodbridge, she earned her education from Middlesex County College. Getting to know her patients so well over time is what she enjoys most about this job!
Melissa's passions outside of the dental field include party planning, crafting, and spending quality time with her family.
One interesting fact about Melissa: She can find anything on the internet.
Meet Our Caldwell Dental Team
Nicole, Office Manager
Nicole attended Berkeley College for her education, and she has now been working in the dental field for over 13 years. She loves meeting new people through her work, as well as spending time in such a fun office atmosphere!
Originally from Bloomfield, Nicole spends her free time traveling, skiing, and hanging out with loved ones.
One interesting fact about Nicole: She has been skiing since she was just seven years old.
Alyssa, Front Desk/Receptionist
Alyssa is originally from Rutherford, and she received her education from Bergen Community College. She is very proud to work for a practice that genuinely cares about people and also spend time alongside team members that work hard each and every day to provide great experiences.
Alyssa comes from a family of hard workers. When she isn't busy at work, she spends her free time rock climbing, snowboarding, and hiking.
One interesting fact about Alyssa: She has hiked and climbed for 15 hours at North Cascades. She is also a vegan by choice!
Evelyn, Dental Hygienist
Evelyn may be relatively new to our practice, but she's been working in dentistry for well over two decades so far. After studying at Bergen Community College in St. Petersburg, she attended Dental Studies Institute for her hygiene education and is also trained in anesthesia. She loves being able to make a difference through her job – one smile at a time!
Evelyn is married with one daughter. Outside of work, she enjoys spending quality time with family and visiting museums.
One interesting fact about Evelyn: she is passionate about shoes and dancing.
Julia, Dental Assistant
Julia hails from Maryland has been working tirelessly in the oral healthcare field for over three decades and counting. She attended Riverdale Community College and has her certifications in CPR and X-rays in addition to being an RDA. She really enjoys talking with patients and being able to care for them so directly through her job.
Julia has two daughters and three granddaughters. Her hobbies outside of the office include cooking, baking, and gardening.
One interesting fact about Julia: She speaks two languages fluently in addition to English – Spanish and Portuguese!