Dental Crowns – West Orange, NJ
Renew Your Damaged Teeth
Do you have a tooth that was fractured in an accident? Are there any large cavities in your smile? Teeth can be damaged in a variety of ways, but in many cases, their health, strength, and appearance can be restored with a dental crown from D&G Dental of West Orange. Don't leave your tooth unprotected for too long; pick up the phone and give our office a call to find out whether a dental crown in West Orange could help you keep your smile safe.
Why Choose D&G Dental of West Orange for Dental Crowns?
Crowns Customized for Each Patient
Durable, Realistic-Looking Materials
Highly Skilled and Experienced Dental Experts
What Is a Dental Crown?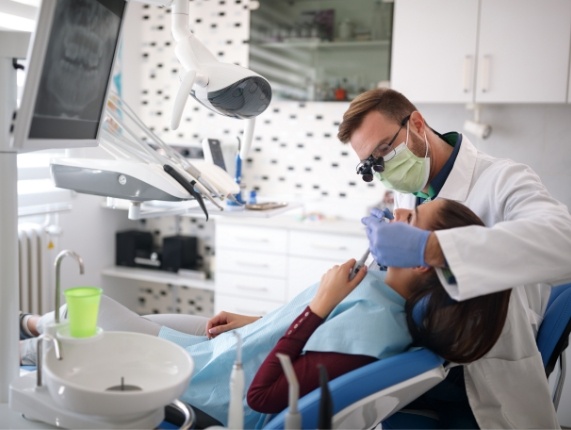 A dental crown is likely one of the first things you think of when you hear about teeth being repaired. The restoration is shaped like a tooth and is used to completely cover the weakened or damaged dental structure. Having a crown placed makes the tooth strong enough to be used for chewing again, and it will be protected from further harm.
When a crown is made of porcelain, it can be carefully shaded so that it matches the color of the other teeth. This results in a restoration that blends in so well that most people won't be able to tell the difference between it and your natural enamel.
Dental crowns might be recommended if you have any badly decayed or severely fractured teeth. They can have other uses as well, like keeping teeth safe after root canal treatment.
The Dental Crown Process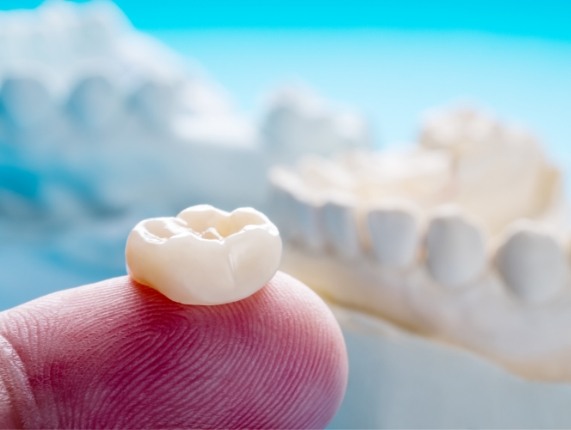 At your first appointment, we'll go over your oral health needs and medical history to make sure that a crown truly is the right choice for your smile. We'll also check to see if any preliminary work is needed beforehand.
If you decide to have a crown placed, we will need to prepare your tooth. This means removing a little bit of enamel so that there's enough room for the crown. Impressions of your smile will then be taken. At the end of your preparatory visit, you may be given a temporary crown.
Experts at a trusted dental laboratory will create your crown and send it to our office. At your final appointment, your temporary crown will be replaced with the permanent one. You will be given a basic overview of how you can take care of your restoration to help it last longer.
The Benefits of Getting a Dental Crown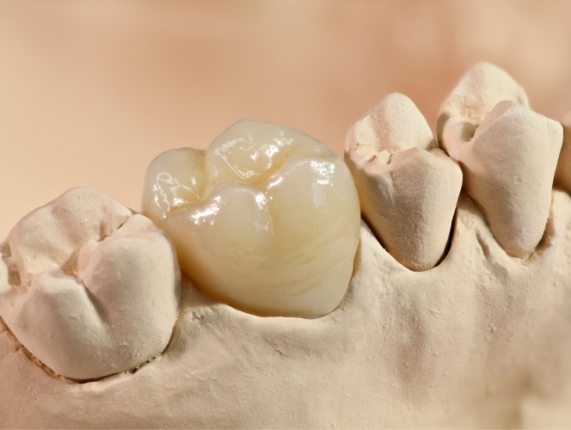 Any damaged parts of the tooth will be completely covered, thus lowering the risk of more severe dental issues.
A tooth restored with a crown can still function normally in terms of biting and chewing.
Porcelain crowns won't stand out compared to the rest of your smile.
The lifespan of a dental crown can be anywhere from 5 to 15 years. Helping your restoration last as long as possible is often as simple as practicing good oral hygiene.
Uncompromised Quality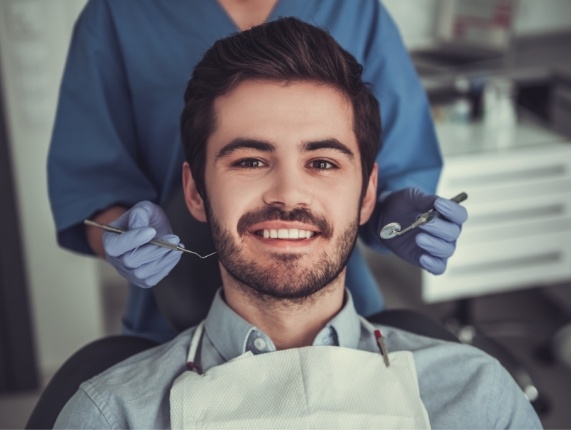 Our dental crowns are all made in trusted dental labs where our doctors have built long-term relationships, ensuring you get complete quality when it's most important. You want dental crowns that last while also improving the appearance of your smile, and our dental team in West Orange goes to great lengths to make sure that all the care we provide leads to extremely satisfying results. Crowns can improve oral health while also giving your self-confidence a serious boost!
To explore options for repairing your damaged smile, contact D&G Dental of West Orange. Our dental office serves West Orange, Verona, Roseland, Cedar Grove, and beyond. With over 15 years of experience serving the West Orange community, Dr. Dawoud has gained the trust of his patients by providing excellent results for gorgeous and healthy smiles.
Understanding the Cost Of Dental Crowns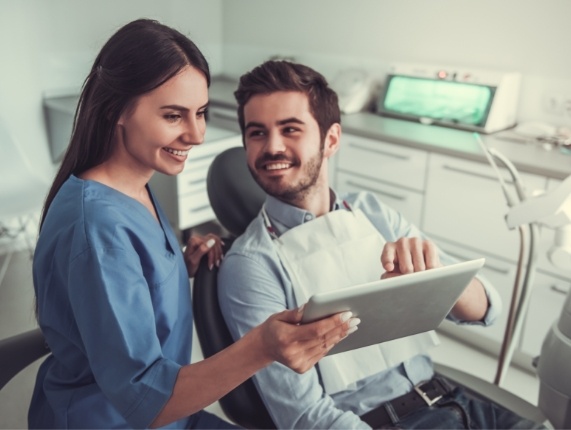 A dental crown, much like many other dental treatments, needs to be personalized according to the patient's needs. As such, when it comes to the cost of your crown, there will be a number of factors that will help determine the amount you pay. At your initial visit, we can give you an estimate of the cost, and we'll be happy to answer any questions you have about how we arrived at the provided number.
Factors That Affect the Cost of Dental Crowns
There are several aspects of the dental crown process that can affect the final price, such as:
The severity of the dental damage that needs to be corrected.
The number of teeth that need crowns.
Whether the crown is part of another treatment, like root canal treatment.
The type of material that the dental lab uses to craft the crown.
The cost of crowns isn't set in stone, so it's vital to remember that the least expensive option won't always be the best one. Oftentimes a lower price is due in part to the crown being made out of lower-quality materials. As a result, it might have a shorter lifespan and will have to be replaced sooner. Make sure that you're truly getting your money's worth when you commit to having a crown placed.
Does Dental Insurance Cover Dental Crowns?
Coverage between dental insurance policies tends to vary a lot, but most of the time you can expect your plan to help cover a portion of the cost of a dental crown if it's considered "medically necessary" for your smile.
Most insurance companies are likely to pay around 50% for a dental crown. To confirm the exact details of your plan, you can talk to one of our dental team members. We accept many different insurance policies and are more than happy to help our patients figure out how they can use their coverage to make paying for necessary dental work easier.
Don't forget that you need to meet your deductible before your insurance coverage kicks in. Also, if you're close to reaching your annual maximum, it could affect the amount that will need to be paid out of your own pocket.
Options for Making Dental Crowns Affordable
We're in-network with most PPO dental insurance plans and can file claims for out-of-network insurance companies. However, we also know that not everyone is able to rely on dental insurance to make their care more affordable. Therefore, we want to make sure that you're aware of other ways to make the financial aspect of restorative dentistry easier.
One option is to apply for a CareCredit financing plan. You'll be able to make a number of monthly payments instead of having to try and fit the entire cost into your budget all at once. One of the benefits of using CareCredit to help pay for dental care is that many of their plans have low or no interest.