Tooth-Colored Fillings – West Orange, NJ
Make Cavities Disappear
Tooth-colored fillings use composite resin instead of silver amalgam to repair cavities filling in the decayed portions of teeth while leaving behind no obvious signs of dental work. If you've seen silver amalgam fillings, you know that they look dark and can be very obvious. With tooth-colored fillings in West Orange, no one will ever know you had a cavity in the first place! Better yet, our team at D&G Dental of West Orange uses tooth-colored fillings to replace older silver fillings and even repair fractures and cracks that aren't decayed. The procedure only takes a single appointment, and patients walk out the same day feeling better about their smiles.
Why Choose D&G Dental of West Orange for Tooth-Colored Fillings?
Strong, Conservative & Natural-Looking Fillings
Designed to Blend Seamlessly with Any Smile
Mercury & Metal-Free
The Benefits of Tooth-Colored Fillings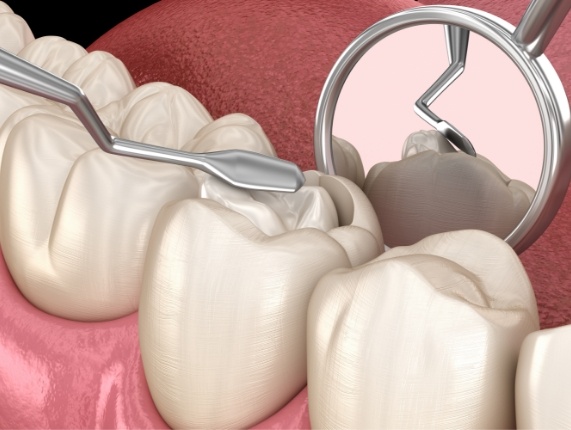 In addition to the valuable aesthetic benefits, tooth-colored fillings have other advantages when compared to their traditional counterparts. Composite resin can be successfully placed in a tooth while removing less natural tooth structure, making them more conservative. They're also not sensitive to changes in temperature like amalgam materials, which makes them more comfortable. Best of all, patients with allergies or sensitivities to metallic materials can have them placed with no problems.