Dental Implants – West Orange, NJ
Rebuild Your Smile for a Lifetime
If you have missing teeth, you're perfectly aware of the multitude of problems they can cause. Eating can become uncomfortable, speaking can feel awkward, and they always make you extremely self-conscious in social situations. Unfortunately, these day-to-day problems can eventually develop into significant oral health issues. People with missing teeth tend to suffer from bone deterioration and gum recession, both of which can lead to even more tooth loss!
However, you can now get the most natural-looking and longest lasting replacement solution available in dentistry today: dental implants. They have been used for decades to give people their complete smiles back, and you can get the entire treatment right here at D&G Dental of West Orange. Contact us today to learn how dental implants in West Orange can rebuild your smile for a lifetime!
Why Choose D&G Dental of West Orange for Dental Implants?
Dental Implants Placed & Restored In-House
Free Dental Implant Consultation
Precise Laser-Guided Dental Implant Placement
What Are Dental Implants?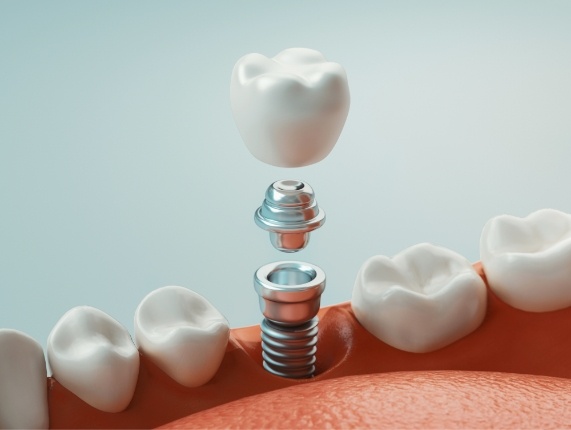 The reason dental implants are considered the "gold standard" for tooth replacement is that they do what no other restorative procedure can: give you back your entire tooth from root to crown. Most other treatments only serve to recreate the tooth above the gum line, but dental implants take it a step further.
Your new tooth root will be a small titanium post that is surgically placed directly into your jawline. This not only provides an extremely sturdy base for your tooth, but it also gives your jaw the essential support it needs to maintain its shape and strength over time. This root can then be attached to a variety of dental restorations that can restore a single tooth, multiple teeth, or even an entire mouthful of teeth. Basically, if you have gaps in your smile, dental implants can fill them better than anything else. The end result will always be a strong, healthy, and beautiful smile.
The 4-Step Dental Implant Process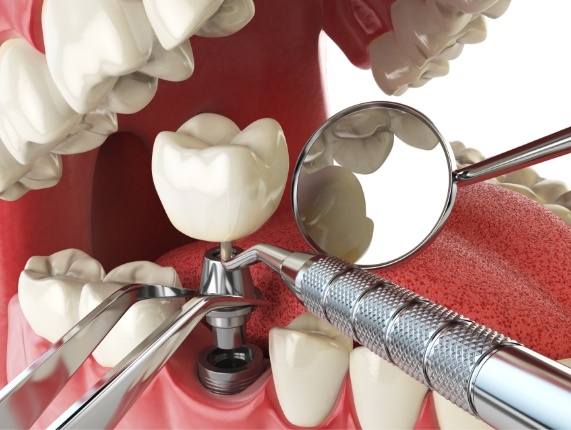 We're happy to say we can perform the entire dental implant procedure right here at D&G Dental of West Orange. Other dental offices will need to refer you to an outside specialist for the first phase of treatment, but we'd rather bring the specialist to you! This helps the entire process go faster and ensures a much better result. It's important to remember that although receiving dental implants does take several months or even a year for individuals needing preliminary treatments, the results are well worth the wait. Not to mention, the 30+ year lifespan for these superior tooth replacements.
Once we have decided that you are a good candidate for dental implants, the process involves four main phases. To learn how dental implants work in West Orange, review the information below:
Initial Dental Implant Consultation
Your initial dental implant consultation will consist of our team using cone beam technology to capture a 3D image of your oral cavity and facial structure. Using this state-of-the-art equipment will allow us to view nerves, bones, sinuses, and other structures and better plan for your implant placement. Should we discover that your jawbone is not strong enough or your gums show signs of infection, you may be required to undergo preliminary treatments like periodontal therapy or bone grafting to better prepare your smile for dental implant placement.
Dental Implant Surgery
The process of having your dental implants surgically placed will occur right here in our West Orange dental office. This means you can plan to receive the same great care from the individuals who have been with you from the start. Your implant dentist in West Orange will use a laser-guided computerized system to place your dental implants, offering greater accuracy and precision. We can avoid altering or bothering nearby healthy teeth and surrounding tissues. Depending on how many teeth you need to have replaced, we will insert one or more implants into their designated areas before closing the gum tissue and sending you home to recover.
Dental Implant Osseointegration/Abutment
While at home, you will spend 3-6 months allowing your tissues, bone, and implants to heal. Osseointegration must be successful in order for your implants to remain firmly in place. This means they must fuse with the bone and tissues to create a solid foundation for your customized restoration. Throughout your time at home, you will need to follow our instructions to ensure you heal properly. Once we are satisfied with the progress, you will return to have your metal abutments, which are connector pieces, attached to the tops of your dental implants in West Orange.
Delivery of Dental Implant Restorations
The last phase of treatment involves receiving your customized restoration. Because dental implants are extremely versatile, they allow you to receive a dental crown, implant bridge, or implant denture. Ultimately, the number of teeth that are missing will dictate the type of restoration you will need. Once secured into place, your new and improved smile will look and feel completely natural and function just like your regular, healthy teeth.
Benefits of Dental Implants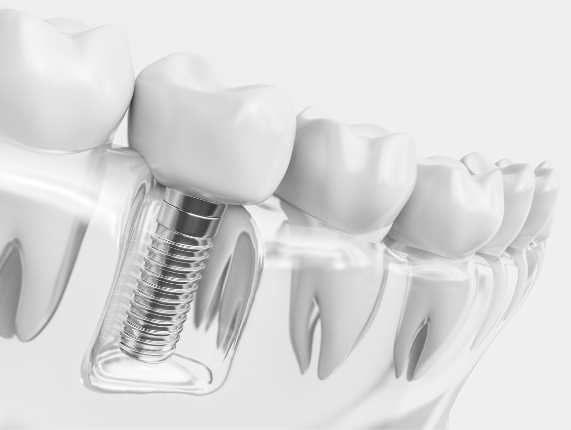 Patients who choose dental implants to bring back their smile will enjoy a number of unique benefits they simply won't get with other, more traditional treatments, such as a smile that looks and functions as mother nature intended, among countless others.
Look & Feel Your Very Best
An implant restoration will look, feel, and function very much like your healthy, natural smile. Because the implant post replaces the lost tooth roots, your supportive structures receive the stimulation necessary to maintain jawbone density and gum tissue volume. In addition to improving oral health and the function of your replacement teeth, the stimulation provided by implant posts also prevents the loss of supportive structures that lead to the sunken in facial appearance so often associated with denture-wearers.
Eat All of Your Favorite Foods
Traditional replacement teeth may limit your diet. This is especially true when it comes to removable partial and full dentures that only return about 20% of chewing ability. An implant-supported partial or full denture will restore 70% or more of your healthy chewing function, allowing you to eat all of your favorite foods and maintain a varied, nutritious diet.
Speak, Chew, & Smile with Confidence
Some people with a replacement tooth or teeth that look or function differently than their natural smiles feel less confident. An implant-supported crown, bridge, or denture allows you to speak clearly, chew any food, and smile with complete confidence in any personal or professional context.
Keep a Healthy, Happy Smile for a Lifetime
Traditional replacement teeth need to be repaired or replaced every five to ten years. Implant-supported replacement teeth have a 90% to 95% success rate after 20 years. Many patients end up keeping their replacement teeth for the rest of their lives.
Quickly & Easily Clean Your New Smile
Dental bridges are fairly simple to clean, but more advanced partial or full denture prosthetics can present a real oral hygiene challenge. Traditional dentures have to be removed during cleaning, and this can lead to the prosthetic slipping out of your hand and breaking against hard countertops. You also need to soak the denture overnight in water or cleaning solution. Plus, you need to brush any healthy remaining teeth or your supportive gum tissue to remove plaque and food.
With an implant prosthetic, you can simply brush your teeth like you usually would. We may recommend using an air or water flosser to remove plaque and foods between the restoration and the gums since you won't be able to remove your prosthetic to clean this soft tissue.
Who Dental Implants Can Help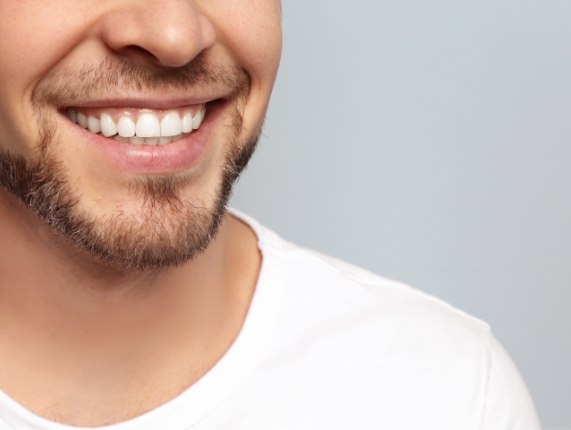 Think there is no way you'd be eligible to receive dental implants? You'd be surprised to learn that more than 3 million people are already enjoying the great benefits only these permanent prosthetics can provide. In fact, most adults who are suffering from tooth loss are viable candidates for treatment. At D&G Dental of West Orange, our team of experts will meet with you during a scheduled consultation to discuss your eligibility as well as find out if you need preliminary treatments before moving forward with dental implant surgery. If so, do not worry, as this is common. Let us put you on the path to a healthier, complete, and fully functional smile. Contact us today!
Who Is a Good Candidate for Dental Implants?
As previously mentioned, almost any adult is eligible to receive dental implants. Even if problems exist from the start, there are available treatments that can be performed to ensure your oral cavity and facial structure are at their best when it comes to receiving your prosthetics. When meeting with your implant dentist in West Orange, we will review the following factors to determine your candidacy for dental implants:
· Your oral health and whether you show signs of tooth decay or gum disease, in which case you will need periodontal therapy or tooth extraction.
· Your overall health and whether you are healthy enough to undergo minor oral surgery or have a condition that weakens the immune system and could potentially cause implant failure.
· Your jawbone density and whether there is enough to support your implant and restoration. If not, you'll likely need a bone graft
One of the great benefits of dental implants in West Orange is that they are extremely versatile when handling all types of tooth loss:
Missing 1 Tooth
Even missing one single tooth can cause difficulty when eating or speaking. Not to mention the self-esteem issues that might arise, especially if it is a visible tooth that can be seen by others. Unfortunately, more than 120 million people are already suffering from the effects caused by one missing tooth. Fortunately, with dental implants, a custom-made, all-porcelain crown will be placed onto the implant root using a tiny screw called an abutment. It will be shaped to perfectly fit with your other teeth and specially shaded to blend seamlessly with the rest of your smile.
Missing Multiple Teeth
An implant bridge is ideal for replacing multiple consecutive missing teeth. It is much more stable than its traditional counterpart because it is held in place with titanium, and it also preserves more of your natural teeth. This is because the teeth surrounding the missing ones don't have to be filed down to hold supporting crowns.
Alternatively, an implant partial denture can be used to restore missing teeth throughout the entire mouth. They provide the same restorative benefits of traditional dentures with the added support of dental implants. Many dentists completely avoid using traditional partial dentures because they are often uncomfortable and put pressure on the remaining teeth. With this implant model, they are held in place with the new roots and fit easily into your smile.
Missing All Teeth
For this, we can use multiple implant posts to support an implant denture. These prosthetics have innumerable benefits over traditional dentures. Thanks to the implant posts, they never slip, pop, or click unexpectedly. Also, because they help keep your jaw and gums healthy, the fit will last for much longer. Plus, the stability allows for a much stronger bite force, meaning patients will be able to eat foods they had to avoid while wearing normal dentures. This is their greatest benefit because traditional denture patients often become malnourished because they have to avoid hearty/healthy foods.
All-On-4
You might also be a candidate for All-On-4 dental implants. These allow individuals who have an inadequate amount of bone density to enjoy the benefits of dental implants. Only requiring 4 strategically placed implants along the jawbone, your implant dentist will make sure they are affixed and offer the maximum amount of support for your customized restoration.
Learn More About All-On-4 Implant Dentures
Understanding the Cost of Dental Implants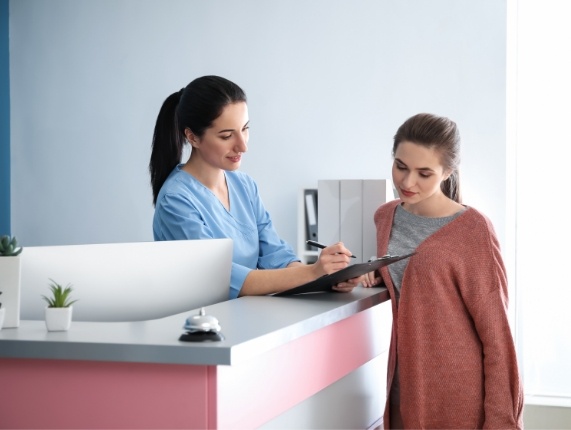 The cost of a dental implant procedure can vary quite a bit from patient to patient depending on their specific needs, such as how many teeth they are missing, where they are located in the mouth, and what kind of restoration they want. The need for preparatory procedures and sedation can also make the treatment more or less expensive.
While dental implant restorations do tend to cost more than other traditional options, they are actually the best long-term investment. Regular bridges and dentures typically last only seven to ten years before they need to be completely replaced, while dental implants can easily last for 30 or more. That means, with implants, a patient will literally save thousands in retreatment over the course of their life, not to mention countless hours spent in the dental chair!
Types of Dental Implants
The main factor in determining the costs of your dental treatment plan will be the number and location of missing teeth, which will tell us how many dental implants you need and what type of tooth replacement prosthetic is required. In most cases, we recommend the following implant supported restoration plans:
One tooth – a single implant post is used to support a custom crafted dental crown.
Two or more teeth in a row – two implants are used to support a fixed bridge restoration.
Two or more nonconsecutive teeth – two to four implant posts are used to support a partial denture.
One or both full rows of teeth – four to six implants are used to support a full denture.
What Other Factors Might Impact Dental Implant Costs?
In addition to the number of dental implants and the type of restoration you need, there are a number of other variables that impact the cost of your implant supported tooth replacement plan, including the following:
Need for preparatory tooth extraction, tissue grafts, and other treatments
Use of dental sedation to maintain comfort
Use of innovative or precious materials like zirconia dental implants or replacement teeth
Does Dental Insurance Cover Dental Implants?
Dental insurance plans have proven notoriously slow to change. In fact, the majority of plans have had the same annual coverage maximums between $1000 and $1500 since the 1960s. While some benefit plans have started to offer accommodation for the costs of dental implant tooth replacement plans, the majority of benefit providers don't cover the costs of the implant posts themselves or their surgical placement. However, we are usually able to work with dental insurers to cover a portion of the costs of our patients' preparatory treatments and replacement teeth. We'll do our utmost to maximize all available benefits to help you offset the costs of your dental implant tooth replacement plan.
Bone Grafting
Bone grafting can be used to replace and even grow bone in potential dental implant sites or extraction sites. Our team may also recommend this procedure to treat defects in the jaw. We will place a portion of a patient's own bone, donated bone, or a lab-made grafting material onto the jaw, and this will encourage the development of new bone in the area. After a few weeks of healing, a patient will be prepared for whatever procedure they might need.
Learn More About Bone Grafting
Dental Implant Failure & Salvage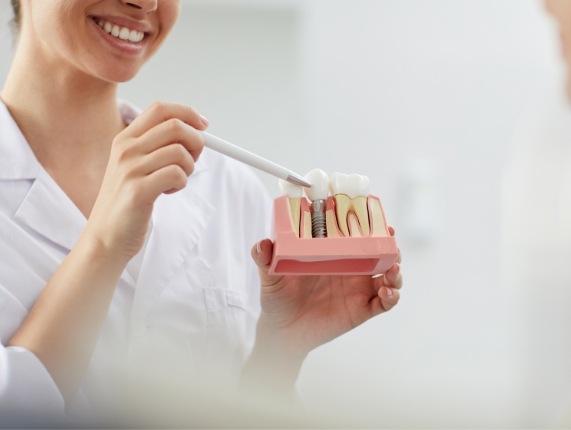 Having a failed dental implant in West Orange is not a common occurrence. With most cases having a 98% success rate upon immediate placement and a 90-95% success rate after 10 years, most patients never have any problems or complications. However, there are always situations that can arise that involve dental implant failure. Whether it is a bad habit you can't break, a poorly placed implant, or an infection, you'll be pleased to learn that the team at D&G Dental of West Orange is here should you need immediate care for a failed dental implant. Contact us today if you suspect problems developing with your dental implants. We'll be happy to see you and get you the treatment you need.
Why Do Dental Implants Fail?
Again, it is highly uncommon for dental implants to fail, but when they do, it is usually because of one of the following three reasons:
Facial Trauma: If you sustain a facial injury or grind your teeth, there is a good chance your dental implants could fail. This is why it's important that you talk to your dentist about having a custom mouthguard made to protect your teeth.
Infection: If peri-implantitis develops, which is an infection in the tissue surrounding your implant, it can spread quickly and destroy the area that is supporting your implant. This typically occurs when patients neglect their oral hygiene routine.
Certain Health Conditions: If you have a weakened immune system or have an autoimmune disorder, you are at a greater risk for implant failure because it becomes harder for your body to heal during the osseointegration phase.
Symptoms of Failed Dental Implants
Unsure what symptoms are closely associated with dental implant failure? Not to worry! Our team at D&G Dental of West Orange has compiled a list of possible signs that can indicate there might be a problem with your dental implants in West Orange. To know for sure, it's best to call and schedule an appointment with our team.
While at home, however, be sure to watch for any of these signs:
Your implant feels loose
You experience difficulty chewing
You develop bad breath or a foul taste in your mouth
The area around your implant becomes increasingly painful and begins to swell
Although some of these may only indicate a minor issue that can be quickly addressed (i.e., a loose implant may just be a restoration that needs to be replaced), others can result in more serious treatment needed. Remember, your implants should feel completely natural and work just like your regular teeth, so if something doesn't feel right, it's better to take the appropriate steps to have it checked by our team of professionals.
How Dental Implant Salvage Works
Knowing how to recognize a problem with your dental implants is the first step. The second is getting in to see us to fix the problem. At D&G Dental of West Orange, we will be happy to review the existing dental implants and recommend a treatment plan that will address the problem areas and get you back on your feet in no time.
As part of the dental implant salvage process, we will first formulate a plan that includes details as to how we will repair your implants. If you only need a new restoration, we can quickly have one made and secured into place. However, if you have a serious infection that is affecting the tissue and bone around your implant, we will need to remove the implant from your mouth and treat the infection before attempting to place a new implant.
While it would be nice to complete the entire process in one visit, dental implant salvage typically takes several months to complete.
Dental Implant FAQs
During your dental implant consultation, our team will be sure to answer all of your questions regarding this treatment. In the meantime, we encourage you to read through this list of frequently asked dental implant questions.
How long does it take to get dental implants?
This can vary greatly from person to person. Many people can complete the entire process in less than six months, while more complicated cases can often take over a year. Your doctor will be able to map out your particular treatment plan at your first appointment so you can get a better idea of your particular timeline.
Does the dental implant procedure hurt?
You will feel no pain or discomfort during the procedure. However, the recovery process will cause some pain and swelling for a few days. Pain relievers and cold compresses will help to reduce the severity. Within a few days, you will be fully recovered.
Can smokers benefit from dental implants?
Tobacco use in any form increases your risk for complications as it lowers your body's ability to heal and fight infections. While we highly recommend you stop tobacco use, smokers can get them, but they will generally require more care to ensure the long-term success of the procedure.
How long do dental implants last?
Dental implants in West Orange are designed to last a lifetime. With the right care, the implant post will never need to be replaced. However, the dental crown will experience daily wear and tear just like natural teeth. You will need to have it replaced about every 10 years.