Dentures – West Orange, NJ
An Affordable Way to Replace Your Teeth
Losing multiple teeth can make speaking and chewing very difficult, and having a noticeable empty space in your grin can hurt your confidence. You'll naturally want to have all of your teeth replaced as soon as possible, and oftentimes the best way to do that is with a customized denture. Dr. Dawoud and Dr. Gencarelli are proud to offer full and partial removable dentures in West Orange as a way to re-complete your smile. To learn more about this tooth replacement option, contact our team at D&G Dental of West Orange today.
Why Choose D&G Dental of West Orange for Dentures?
Specially Designed for Every Patient
Removable & Fixed Options Available
Made to Look Natural & Last a Lifetime
Who Is a Good Candidate for Dentures?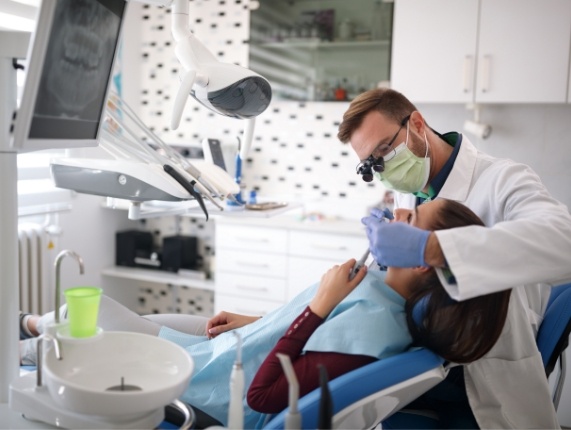 You may be considered a candidate for dentures if you have suffered from extensive tooth loss. That said, you need to have enough healthy gum tissue and jawbone structure to support your new teeth; if you don't, you may need to undergo preliminary treatments, such as bone grafting, before you can receive dentures. Our team will perform a thorough exam at your initial consultation to confirm that dentures are the right choice for your smile.
Types of Dentures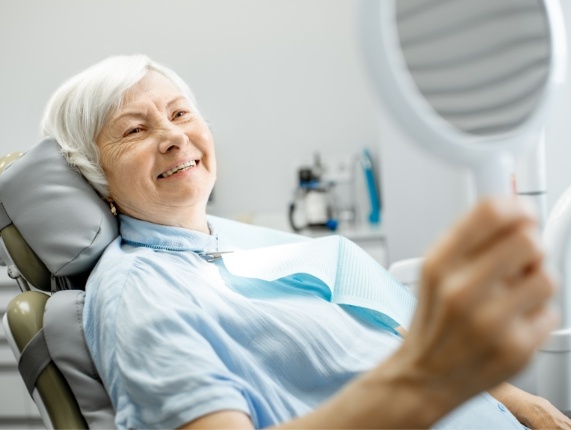 There are three main kinds of dentures that might be recommended to you depending on how many teeth need to be replaced and how healthy your jawbone is. Below is a brief overview of your options:
Partial Dentures
A partial denture is recommended if you only need to replace some of the teeth in a single arch. The restoration is comprised of a gum-colored base and a number of prosthetic teeth; it will be designed to fit perfectly in the spaces in your smile, and metal clasps will be used to attach it to your natural teeth. Once it's in place, most people won't be able to tell the difference between your prosthetic and the rest of your grin.
Full Dentures
We will recommend a full denture if you've already lost all of the teeth in a single arch or if you don't have enough healthy teeth that are worth saving. A full denture consists of a gum-colored base and a full row of prosthetic teeth. Your restoration will rely on natural suction to stay on your gums; if you want to give it some extra stability, you can apply an adhesive specially designed for dentures.
Implant Dentures
Dental implants can be surgically placed in your jaw to support a partial or full denture. This prevents your dentures from moving when you don't want them to, and the added stability will make it easier to chew all of your favorite foods.
Learn More About Implant Dentures
Getting Used to Your New Denture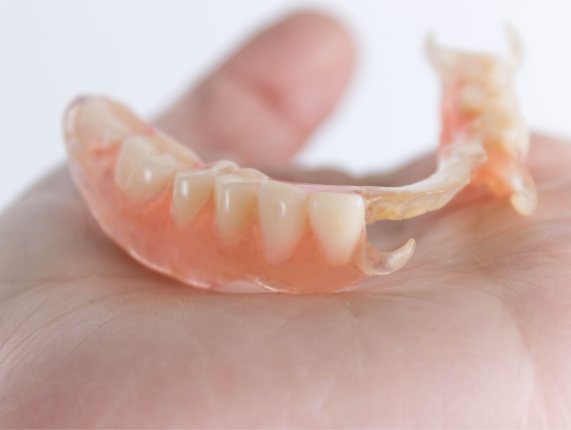 It may take some time to adjust to your denture, especially if you have been without teeth for a while. You may have excessive saliva build-up as your mouth gets used to the new prosthetic. Eating may seem difficult at first, and you might have trouble saying certain words. Don't worry – these are all common side effects of a new denture. Make the adjustment easier by cutting your food into small bites and sticking to softer meals at first. Practice reading out loud to yourself to retrain your speech habits. And most importantly, wear your denture all the time (except at night) to speed through the adjustment phase.
The Benefits of Dentures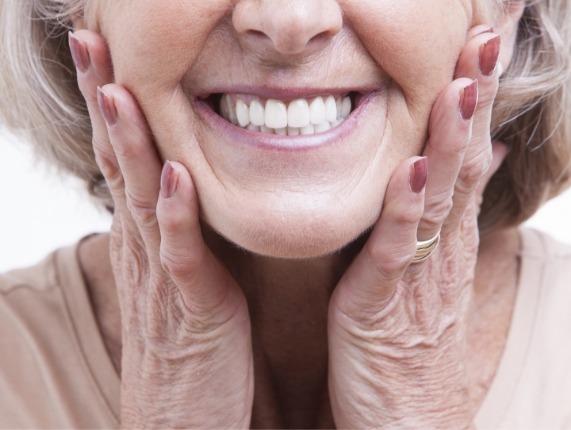 With dentures, it'll be much easier to maintain a healthy diet, and you'll be able to speak clearly again. Your restoration will be personalized for your unique mouth to provide maximum comfort and a natural appearance. And thanks to the durability of dentures, you can expect your new smile to last 10 years or more with the right kind of care.
Understanding the Cost of Dentures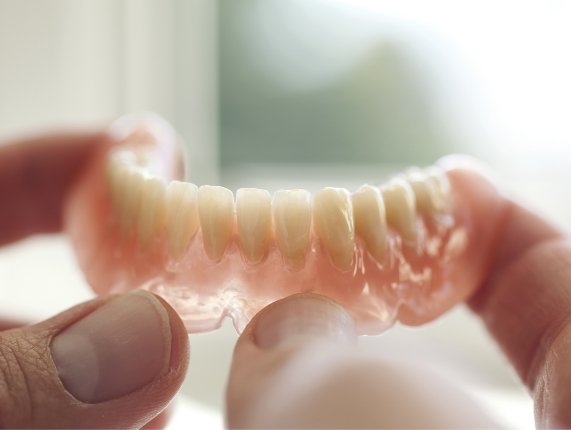 Dentures are attributed to a large price tag, but they are more affordable than you might realize. At D&G Dental of West Orange, we believe your financial situation should never stand in the way of replacing your lost teeth. Many factors affect the cost of dentures in West Orange, but we have the solutions you need to keep a complete smile within your budget.
Factors That Affect the Cost of Dentures
A one-size-fits-all denture would be uncomfortable and aesthetically unpleasant, which is why there's no flat fee for a new set of teeth. Several things will affect the amount you'll pay, like:
Preparatory Treatments: It's not uncommon to require a little prep work, like tooth extractions or gum disease treatment.
Number of Arches: Treating both the upper and lower teeth will cost more.
Type of Denture: You have multiple prosthetics to choose from, like traditional dentures, palate-less options, and implant dentures.
Materials: Discounted materials may cost less, but they may not be as comfortable, durable, or aesthetically appealing.
Your denture dentist in West Orange will examine your mouth and learn more about your preferences to create a personalized treatment plan. You'll know exactly how much your new smile will cost before committing to anything.
Are Implant Dentures More Expensive?
Implant dentures may be more expensive upfront, but they are the most cost-effective long-term because they can last for decades with the right care. You won't have to budget for replacements every few years like you would with traditional dentures. Not to mention, the implant denture process is performed in several steps over many months, which gives you more time to pay, so you won't have to come up with a lump sum.
Does Dental Insurance Cover Dentures?
It's unlikely your dental insurance will cover the entire cost, but you can use your benefits to lower the amount you'll pay for certain steps in your plan, like your consultation, preparatory procedures, or your prosthetic. A member of our team will work on your behalf with your dental insurance to maximize your coverage to reduce the amount you'll pay out-of-pocket. They'll explain how your benefits are being used and discuss any remaining balance.
Other Options for Making Dentures Affordable
Besides using your dental insurance, our office offers many solutions to keep dentures in West Orange affordable, including:
Traditional Payments: Our office accepts all traditional payment methods, including cash, checks, and credit cards.
Specials: We offer regular promotions, like a free dental implant consultation.
Monthly Payments: You can pay any out-of-pocket expenses using a monthly payment plan through a third-party financing company, like CareCredit. You can enjoy little or no interest in financing based on your credit approval.
It doesn't have to cost you an arm and a leg to replace your lost teeth. We'll help you find the financial solutions you need to invest in a high-quality, durable denture that closely mimics your real teeth. If you're ready to rebuild your smile or have questions about your payment options, contact our office today.
Denture FAQs
Dentures in West Orange have been used for generations to treat significant tooth loss in one or both arches. Although they are a tried and proven method of replacing lost teeth, it's normal to have some concerns before you're ready to invest in them. Your dentist at D&G Dental of West Orange will explain everything during your denture consultation. While you wait for your appointment, here are the answers to a few frequently asked questions.
Can I sleep with my dentures in my mouth?
Initially, your dentist will instruct you to wear your new dentures for 24 hours. After the first day, get in the habit of taking them out before going to bed. Although no one wants to be caught without their teeth, your oral and general health relies on the nightly removal of your dentures because they will restrict blood circulation to your gums. If your soft tissues aren't given time to recuperate, it can lead to sores, inflammation, and infections. Not to mention, your mouth is a hotspot for oral bacteria growth at night, which can lead to odors and shorten the lifespan of your dentures if they aren't taken out nightly. It's best to remove them and place them in an overnight soaking solution to combat harmful bacteria. It will also keep them moist to prevent them from warping while you get the rest you need.
Does an upper denture always cover the palate?
Concerns about an upper denture covering the roof of the mouth aren't uncommon. If you're worried about discomfort or an upper denture changing the way food tastes, you have other options, like a prosthetic shaped like a horseshoe. Your denture dentist in West Orange will review all your options to help you make the right choice for your needs, preferences, and comfort.
Can I use regular toothpaste to clean my dentures?
Although your dentures will closely look and feel like your real teeth, they can't be cleaned the same way. Abrasive dental products can scratch your dentures, tarnishing their appearance. Bacteria and food particles can also get trapped in the small crevices, leading to odors and damaging your denture. It's best to skip toothpaste when cleaning them. Instead, use a soft-bristled toothbrush and mild hand soap or dishwashing liquid. You can also purchase cleaning kits designed for denture wearers. Besides brushing your dentures, don't forget to use a nightly soaking solution to remove any bacteria or plaque left behind by your toothbrush.
Is a broken denture a dental emergency?
Yes, broken dentures are a dental emergency because you rely on them to get through the day. Never use superglue or try to repair them yourself. Instead, leave the mending to professionals. Contact our dental office for an appointment and use an old denture if possible. Don't continue to wear your denture if it's broken because it can lead to oral injuries and additional damage. We will get you into the office quickly to provide the necessary repair or replacement.