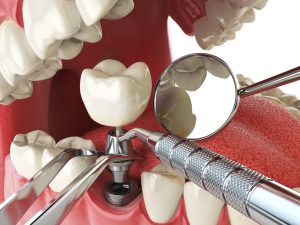 If you are thinking about getting a dental implant in West Orange to fill in the gap in your smile, you have a lot to look forward to! Implants are sturdy and natural-looking, and they have the potential to last for a lifetime. They can even help to prevent bone loss. Yes, implants are amazing — but sometimes they come with a catch. Varying circumstances can cause some implant cases to be more complex than others. Let's take a look at some of these complicating factors and discuss how your oral surgeon may be able to navigate around them.
Bone Issues
After you lose a tooth, your jawbone immediately begins to deteriorate. The boss loss is the most dramatic in the first year, but it continues after that as well. Some people's jaws are so weak that they could not provide implants with the strong base of support that they need to thrive. Fortunately, a bone graft may be able to fortify your jawbone and give it the strength and density it needs to accept the implants.
Multiple Teeth
One of the beautiful things about implants is that they are so versatile. They can replace one tooth, a few teeth, or all of the teeth in your mouth. Of course, the exact number of teeth you need to have replaced will affect how your dentist plans your implant procedure.
For example, if you are missing all or most of your teeth, your dentist may recommend that you receive All-on-4 in West Orange. As the name implies, this method for implant placement allows an entire arch of teeth to be supported by as few as four dental implants, which are inserted at strategic positions throughout the jawbone.
Medical Conditions
Before you receive implants, your dentist will thoroughly assess your oral health. Certain conditions, such as gum disease, can seriously compromise your implants' chance of success. Therefore, you may need periodontal therapy or other treatments before your implant surgery.
Overall health considerations also come into play. Diabetes and other illnesses that affect the immune system can slow down healing time after surgery. It is important that such conditions are well-managed before you receive your implants.
Tobacco Use
Tobacco is anathema to good oral health, and it can dramatically increase the chances that your implants will fail. Smoking slows down healing time and can make it difficult for implants to establish a strong bond with your body. This doesn't mean that tobacco users cannot receive dental implants, but it is important that they be aware of the risks associated with their habit. If you smoke, please make a diligent effort to quit before your implant surgery so you can give your new smile the best start possible.
Are you thinking about getting dental implants? Even if your case is a bit on the complex side, you may still be able to enjoy all of the wonderful benefits of this tooth replacement method.
About the Dentist
Dr. Medhat Dawoud is a Fellow of the prestigious International Congress of Oral Implantologists. As a true expert in his field, he is qualified to handle even complex cases. If you would like to talk to him and discover if you are a candidate for dental implants, please contact our office at 973-731-2200.