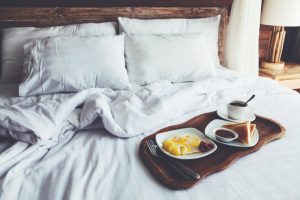 It's no secret that the United States has an obesity problem. The condition affects about 93.3 million US adults and, in the worst-case scenario, can lead to heart disease, stroke and type 2 diabetes. If you have problems with your weight, you've probably been told to eat less – but it might not be that simple. Recent studies have found that poor sleep is linked to consuming more calories; that could mean that in some cases, the root of an obesity problem might lie with the quality of your rest.
How Has Poor Sleep Been Linked to Poor Eating Habits?
One study published in The American Journal of Clinical Nutrition followed the sleep habits of 42 healthy adults who slept for an average of 5 to 7 hours every night. Participants wore special trackers while they were asleep and were asked to keep track of the hours they slept and the food they ate every week. Half of the group extended their sleep duration during the experiment while the other half made no changes to their habits.
Looking at the food journals at the end of the 4 weeks, researchers found that the patients who extended their sleep hours were now eating 10 less grams of sugar on average every day than they did at the beginning of the experiment. Furthermore, the patients who slept less consumed about 550 more calories than those who slept longer.
What Does This Link Mean?
Sleep has been found to affect the hormones that help control appetite. Put simply, if you don't get enough rest, you'll tend to eat more than you need to. Furthermore, it goes without saying that sleep deprivation is also linked to a lack of energy; this makes it harder to exercise or fully recover from a workout. The bottom line is that if you're trying to lose weight, then you should examine your sleep patterns and see where you can improve.
What If I Have Trouble Sleeping?
If you think you're getting enough rest every night but still feel excessively hungry and drowsy during the day, you might be having trouble sleeping without realizing it. Disorders like sleep apnea – a condition where breathing is interrupted multiple times during the night – can cause you to wake up briefly; it's so quick that you won't remember it happening, but it's enough to interrupt your sleep cycle. Many patients who suddenly gain weight without knowing why are often found to have untreated sleep apnea.
Take the time to examine your diet as well as your sleep habits. Make sure you're spending enough time in bed every night and talk to a specialist if you suspect you might have sleep apnea or a similar disorder. Who knows? Extra shuteye might be the solution you need if you want to lose a few pounds!
About the Practice
At D&G Dental in West Orange, two general dentists and an oral and maxillofacial surgeon combine their areas of expertise to offer a wider range of services at a single practice. In addition to traditional dentistry, they can also help treat other conditions related to the mouth; for example, they offer oral appliance therapy for patients with sleep apnea. To schedule an appointment, visit their website or call (973) 731-2200.