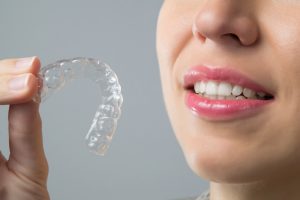 What would it be like to talk to your new client with confidence, instead of wondering if they noticed your teeth? How would it feel to smile for the next company photograph? Crooked teeth are embarrassing and they take a toll on your confidence! If you've considered straightening your teeth, read on as we discuss Invisalign in West Orange vs. traditional braces.
Traditional Orthodontics
Orthodontics is the art of aligning teeth and correcting bite issues in order to provide better function and a beautiful smile. This is traditionally accomplished with metal or clear brackets that are attached to your teeth in order to house the wire used to create movement. Most cases take anywhere from 18-24 months to complete and the result is a straight and healthy smile that also benefits your oral health.
Why is Orthodontics Important?
Crooked teeth not only destroy your confidence, they also impact your oral health. A bite that is misaligned can contribute to painful jaw joint issues and a condition known as TMJ, or temporomandibular joint disorder. Teeth that are crooked or overlap can be difficult to keep clean with regular brushing and flossing, which increases your risk for issues such as periodontal (gum) disease or tooth decay. Straightening your teeth not only gives you a beautiful smile, it also improves the function of your teeth and your oral health.
What is Invisalign?
Many of our adult patients find the idea of wearing traditional metal braces unappealing, and would like more discretion when they straighten their teeth. For this reason, D & G Dental is proud to be certified Invisalign providers. Invisalign utilizes clear plastic aligners to apply the pressure required to move and align your teeth.
Invisalign is designed to straighten your teeth discreetly without interfering in your normal daily activities. Aligners are removable, which means you can take them out for eating, brushing, flossing, and the occasional big event. There are no restrictions to your diet, or changes required to your home care routine. Most Invisalign cases can be completed in 12-18 months, which makes them appealing to our busy adult patients.
Am I a Candidate for Invisalign?
Our doctors can determine if Invisalign will work for you with a thorough examination, x-rays, and photos of your teeth. Invisalign works well for most patients and we'll use 3D imaging to create your treatment plan, which will allow you to see what your smile will look like prior to starting treatment!
Contact D & G Dental
Why not make 2017 the year you reclaim your smile? Contact our office today to learn more about Invisalign.