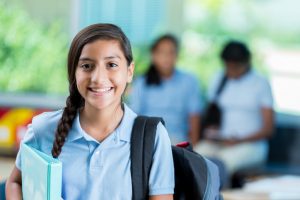 It is that wonderful time again where your child gets ready to start an amazing new school year. To ensure they head into the upcoming grade with their best foot forward, you take the time to get school supplies, a new back pack, and everything else on the list. However, despite your careful planning, you may be overlooking one important factor—the health of their teeth and gums. By promoting their oral health now, you save them missed days from school and unexpected appointments with their family dentist in Caldwell. To promote a successful year ahead, there are four simple tips to promote a healthy smile.

1. Encourage Oral Hygiene Habits
Oral hygiene is an important part of keeping the teeth and gums health while promoting a beautiful smile. This starts at home with a great routine each day.
Before heading to school, your child should brush their teeth for at least two minutes using a soft-bristled toothbrush and fluoride toothpaste. This should be repeated each night before going to bed. In addition, they also need to floss in between each tooth to remove food particles, plaque, and tartar that was left behind when brushing.
2. Eat a Balanced Diet
The foods your child eats will contribute to their oral and overall health. To prevent damage to their teeth, limit their consumption of sugary and starchy foods. Instead, choose those that are rich in vitamins and minerals while containing protein. When packing their lunch this school year, skip the juice box and chewy snacks to instead include bottled water and cheese.
3. Schedule a Preventive Appointment
Children need to see their dentist in Caldwell every six months for a cleaning and checkup. In addition to giving them a clean, polished smile to start the new school year, their dental health is monitored to detect potential issues while they are still small, like cavities. By doing so, it reduces unexpected complications that could cause them to miss a day of school.
4. Get an Athletic Mouthguard
If you child will be participating in sports this year, get a custom-fit athletic mouthguard. This provides an added barrier to protect the teeth and gums from damage should trauma to the mouth occur. This will help to prevent broken or knocked out teeth to keep their smile looking great.
However, be sure to get one from their dentist and not one that is available over-the-counter. Although they are convenient, they do not fit properly and do not offer the same layer of protection as those that are available from a dentist.
Start the School Year with a Healthy Smile
As you are getting your child ready for the new school year, make sure a healthy smile is at the top of your "to-do" list.
About the Dentist Near Me
D & G Dental is committed to creating healthy, beautiful smiles that last for a lifetime. If you have additional questions as to how to promote your child's dental health, our dedicated team is more than happy to speak with you. Contact our office today.