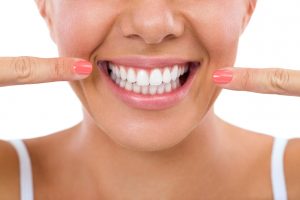 If you're looking for a dental procedure that will provide a long-lasting, beautiful smile even when your natural smile could not—look no further. The custom porcelain veneers that you're looking for are right under your nose! Instead of googling, "dentist near me" to find the closest cosmetic dentist, consider visiting our dental experts at D & G Dental. If you've been struggling to achieve your highest quality of life because you have chipped, discolored, or unevenly spaced teeth, we can help you! We also provide all our patients the tips and information you need to maintain your corrected smile for years after receiving your porcelain veneers.
What are porcelain veneers?
Porcelain veneers are thin shells of high-quality dental porcelain that fit over your front teeth. These "instant makeovers" are highly customizable. Your cosmetic dentist in Caldwell will personalize your porcelain veneers based on your individual measurements and the goals you have. In just two visits, D & G Dental can transform your smile, instantly improving the color, size, shape, and overall appearance of your teeth. Your veneers can cover up plenty of imperfections like chips, cracks, gaps, misalignments, and misshapen teeth for years and years with the help of these 4 maintenance tips.
1.         Maintain Excellent Oral Hygiene
If you want your new smile to last long, you must keep your teeth and gums healthy. Good oral hygiene directly correlates to healthy teeth, which are necessary for your veneers to stay in good condition. Brushing twice a day, flossing once a day, along with professional cleanings at our Caldwell office will keep your natural teeth healthy and your porcelain veneers bright and shining.
2.         Don't Bite Hard Objects or Food
Even with your natural teeth, you should avoid biting objects that put your teeth at risk for cracking, fracturing, or chipping. Opening packages and other things is not a good idea if you have porcelain veneers either. They will eventually tear, chip, or break from this bad habit. Veneers can withstand normal biting pressure, but they're long lifetime can be cut short if they are exposed to unnatural pressures.
3.         Avoid Foods and Beverages That Can Stain
One of the best aspects of your veneers is that they are stain resistant! But, it's better to not challenge your new smile. If you drink dark substances like wine regularly, stains will eventually occur over the years. It is okay to indulge sometimes, but enjoy them in moderation with your smile in mind. Rinse your mouth afterwards so that some of the staining particles can be washed away.
4.         Visit Your Dentist Regularly
Visiting your dentist every 6 months is very important to the maintenance of your veneers. We can monitor your veneers, teeth and gums, and check for potential problems. During each dental appointment, we will perform professional cleanings—preventive care avoids huge dental problems down the road for both your natural teeth and veneers. Dental visits every six months should be enough for you dentist to properly care for your teeth and gums.
Schedule an Appointment with Your Dentist in Caldwell
Although getting porcelain veneers is relatively simple, it's still important to meet with your dentist to achieve and maintain those stunning results. If you live in West Orange, Caldwell, Roseland, Verona, or Cedar Grove, give our office a call to schedule an appointment.