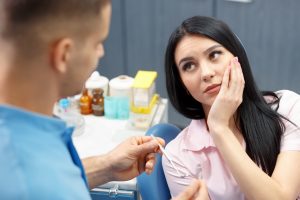 You might shudder at the thought of receiving a root canal. However, this procedure, wherein your dentist in West Orange will remove the infected and/or damaged part of a tooth, can preserve your smile and spare you from pain. But how do you know if you need a root canal? If you are experiencing any of the following symptoms, it's time to seek a professional diagnosis.
Tooth Discoloration
It's normal for your teeth to become discolored over time. It might be because of your daily cup of Joe, your affection for red wine, or for other reasons. You can look into professional whitening services to restore your smile's brilliance.
However, discoloration is a cause for alarm if one tooth is considerably darker than the others. This is a sign that the pulp inside the tooth is infected.
Extreme Sensitivity
When you eat very hot or cold foods, you probably expect to experience some discomfort in your teeth. Alarm bells should only go off the sensitivity crosses the line into pain and if it persists even after your teeth are no longer exposed to extreme temperatures.
Pimples on Your Gums
Your gums should never have acne. If you notice a little pimple-like bump on your gums that go away, it's a sign that you might have an abscess. Other symptoms of an abscessed tooth include:
Severe pain
Fever
A bitter taste in your mouth or bad persistent bad breath
An open sore on the side of your gum
Swollen Gums
If you have swollen gums, you might not need a root canal. The cause might be gingivitis or periodontitis, both of which are forms of gum disease. The swelling could also point to an infection that a root canal could address. Either way, it's important that you head into your dentist right away to have a professional diagnose the problem.
What If You don't have Any Symptoms?
If you think your teeth are healthy, you might be wrong if you haven't been to see your dentist in West Orange for a while. Sometimes, an infection develops and doesn't present any symptoms until the problem has progressed to the point where not even a root canal could save the tooth. However, if you visit your dentist twice a year, it's much more likely that you'll be able to get any threats to your oral health taken care of before a tooth extraction becomes necessary.
Don't hold back from going to your dentist if you think they might recommend a root canal. Modern dental techniques make the procedure as painless as possible. Plus, after the infection is gone and a crown is on your tooth, you'll be able to once again enjoy eating your favorite foods without discomfort.
Do you need a root canal? Use this checklist to determine if it's time to see your dentist.
About the Author
The team of doctors at D&G Dental are happy to provide comprehensive dental care to people in the West Orange area. If you think you need a root canal or have questions about your oral health, contact the office at 973-731-2200.