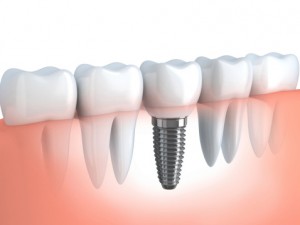 If you have one or more missing teeth then you know that the consequences can be serious. Most obvious is the effect even one missing tooth can have on your smile. Hard not to notice, isn't it? Beyond that you may have trouble eating healthy foods such as fresh fruits and vegetables, and there may even be times when speaking is difficult. If this is you, then you should consider dental implants. These modern dental wonders are the tooth restoration that most closely mimic natural teeth. With dental implants, the dentists at D & G Dental in West Orange, NJ, have restored smiles to patients from throughout Northern New Jersey.
What is a Dental Implant?
A dental implant is really made up of two parts: the part you see and the part you don't. The part you don't see is a titanium post that is implanted into the jawbone beneath the open socket of your missing tooth. This post fuses with the bone tissue, thereby providing stability and better health. Without a tooth root, the surrounding bone tissue begins to deteriorate, which can cause facial sagging. Dental implants not only provide a permanent tooth replacement, they also prevent this deterioration.
The part of a dental implant that you do see is the crown. After a few months when you've healed from the implant surgery, which is performed by our oral surgeon, you'll return to D & G Dental to have your custom crown cemented into place. The result is a tooth restoration that looks, feels and functions like a natural tooth. And with regular brushing and flossing, your dental implant can last a lifetime.
Schedule an Appointment Today
If you are ready to restore your smile with dental implants, then call D & G Dental in West Orange, NJ, today. We also serve patients from the surrounding communities of Livingston, Montclair, Verona and Bloomfield and beyond.