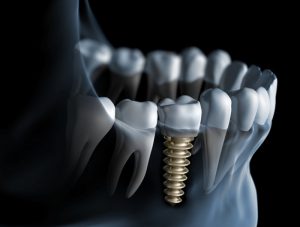 Most dentists will highly recommend dental implants to patients with missing teeth; compared to traditional dentures and dental bridges, implants last a lot longer and are generally stronger when it comes to chewing your favorite foods. But what about patients who have already suffered bone loss in the jaw? Are dental implants in Caldwell still an option? In many cases, the answer is yes! Learn how your dentist can help prepare your jaw for your new teeth.
Why is a Healthy Jawbone Important for Getting Dental Implants?
Unlike traditional restorations that sit on the gums or use natural teeth for support, dental implants are surgically inserted into the jaw. During the recovery process, the metal posts fuse with the bone through osseointegration. This allows them to provide stable, secure support for prosthetic teeth.
For implants to be successful, your jawbone needs to be strong enough to support the posts; if it's too thin or too soft, the pressures from chewing could cause an implant failure. Moreover, there needs to be a certain level of bone present for osseointegration to be successful.
Unfortunately, missing teeth usually cause the jaw to deteriorate over time; dental implants can stop this process, but they may not be successful if the deterioration is too advanced. Your dentist will consider ways to preserve or regrow the bone so that the procedure can be performed.
How Can the Dentist Prepare My Jaw for an Implant?
Bone grafts are commonly used to ensure that the jawbone is strong enough to receive an implant. This procedure places material in your jaw that promote bone growth. There are a few different kinds of grafts:
Autogenous grafting uses bone tissue from another part of your body, usually the hip.
Allografts use tissue donated from another person.
Xenografts involves bone tissue from animals (usually a cow).
Alloplasts utilize synthetic materials that are very chemically similar to human bones.
Grafting is safe and reliable; it's often a vital step during the overall implant process.
How Far in Advance Do I Need Bone Grafts?
In minor cases, a graft can be performed on the same day that the implant is placed. If more extensive regrowth is needed, however, you may have to wait several months of recovery before you can move on in the process. It largely depends on how far deterioration has already advanced.
Your dentist will examine your overall health during your initial consultation and decide what kind of grafting is needed – or if it's even necessary at all. They'll also consider other factors, such as the state of your gums. Don't be afraid to ask questions; it is your smile that's being restored, after all!
About the Practice
At D&G Dental, our two general dentists and our certified oral and maxillofacial surgeon combine their talents to bring you comprehensive dental care. From preventing cavities to replacing teeth with dental implants, we offer many different services for patients of all ages. To schedule an appointment, visit our website or call (973) 226-0260.