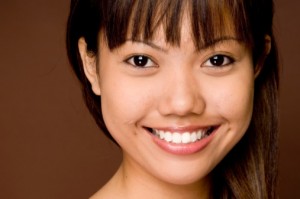 Although the number one priority of a dental practice is the health of patients' smiles, at D & G Dental of West Orange in West Orange, NJ, we understand that you also want your smile to be as attractive as possible. That's why we offer a variety of cosmetic dentistry procedures. For trustworthy cosmetic dentistry, West Orange, NJ, makes the short trip to D & G Dental of West Orange.
Teeth Whitening
Probably the most popular of our cosmetic dentistry treatments is teeth whitening. We offer Zoom! in-office teeth whitening for the fastest results possible, as well as an at-home system if you prefer to whiten your teeth on your own schedule in the privacy of your own home. We also have what we call the Whitening for Life Program, which allows you to maintain your beautifully white smile with complementary teeth whitening gel that you'll be given after each checkup.
Cosmetic Bonding and Porcelain Veneers
For patients with chipped or slightly cracked teeth, misaligned or misshaped teeth, or teeth that have unsightly gaps, D & G Dental of West Orange offers cosmetic bonding or porcelain veneers. With cosmetic bonding, one of our dentists uses the same strong composite resin material used for white fillings to rebuild and sculpt damaged teeth. We'll select the shade that most closely matches the color of your natural teeth, although you may want to consider teeth whitening before this procedure.
Porcelain veneers are thin layers of dental porcelain that are adhesively bonded to the facial side of teeth in your smile zone, thereby creating an entirely new smile. These veneers not only conceal the imperfections in your smile, they also help shield your teeth from further damage.
Invisalign
If your teeth are crooked, but you don't want the hassle or the appearance of traditional metal braces, don't despair. Invisalign clear plastic aligners straighten teeth almost invisibly, as the name suggests. You'll wear each set in a series of aligners for about two weeks each, removing them only to eat and drink, or brush and floss. After about a year of treatment, you'll see the straight smile you've always wanted.
Call Our Office Today
To learn more about the cosmetic dentistry, West Orange, NJ, trusts, call the office of D & G Dental in West Orange, NJ. We conveniently serve patients from Livingston, Verona, and Bloomfield and beyond.