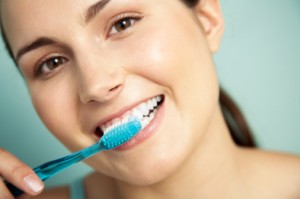 Brushing your teeth helps prevent cavities, bad breath and gum disease. Experienced general and family dentist, Dr. Medhat Dawoud, at D&G Dental in West Orange, NJ teaches patients that excellent at-home hygiene, include basic brushing techniques, help preserve smiles for a life time.
D&G Dental in West Orange, NJ recommends toothbrushing as the best foundation for healthy smile
While the amazing array of dental services available today are a real blessing to oral and systemic health–and to self-image and confidence, too–the simplest of home hygiene techniques really remains unchanged. It's toothbrushing. Combined with daily flossing, brushing your teeth correctly promotes disease-free teeth and gums, a sparkling appearance and fresh breath, too.
The staff at D&G Dental enjoy opportunities to teach patients about toothbrushing. Doctors Medhat Dawoud, Paula Gencarelli and Ghobadi recommend these simple techniques to maximize your brushing experience:
Use a soft-bristled brush along with a quality, fluoride paste. Soft bristles are gentle on enamel and gums. Some patients prefer electric toothbrushes, but they are not necessary.  Fluoride is an excellent cavity-fighter. Whitening and anti-tartar toothpastes work well for the short-term but can be too rough on enamel.
Brush a minimum of twice daily for 2 minutes per session. The American Dental Association recommends this schedule as the minimum for good oral health. Floss in between teeth to remove plaque and food residues. Small interdental brushes help individuals with dental implants, fixed bridgework and wire and bracket braces.
Use short brush strokes. Place the brush at a 45-degree angle to the tooth surface, and move it in a short, back and forth motion. Go slowly and carefully around the teeth, concentrating on the harder to reach back molars. For the back sides of the front teeth, place the brush vertically, and scrub with an up and down motion. Some people divide the mouth into 4 parts and and brush each section for 30 seconds.
Gently clean soft oral tissues, too, including the tongue, cheeks, roof of the mouth, and of course, gums. People often neglect the tongue but should take extra care as its textured surface harbors bacteria and food particles.
Rinse well with water. Mouthwashes are fine but not necessary unless your dentist in West Orange, NJ specifically recommends one.
Change your toothbrush regularly. Dr. Dawoud suggests every 3 months or so in keeping with American Dental Association and American Dental Hygienists'  Association guidelines. Some brushes have color indicators which disappear when the brush is worn out. Also, get a new brush after having a cold or flu as toothbrushes can retain germs.
Keep routine visits with D&G Dental
Home hygiene, coupled with semi-annual exams and cleanings with Dr. M. Davoud and his associate dentists, is the gold standard of preventive dentistry. Why not schedule your check–up today, and ask your West Orange, NJ dentist and hygienist about your personal brushing technique?