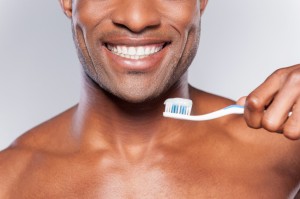 Correct brushing is the foundation of oral health. West Orange, NJ dentist, Medhat Dawoud DMD, teaches that prevention is the best dental service.
Brushing your teeth–it's something your mom taught you years ago, but are you still doing it correctly? Your West Orange, NJ dentist says proper brushing is the first line of defense against tooth decay, a largely preventable dental health condition that affects millions of Americans–from children and teens to adults through their senior years.
Why bother to brush?
Cavities happen where oral bacteria secrete destructive acids that eat holes in the outer layer of tooth structure known as enamel. Cavities start small, but left untreated, can grow and infect, leading to toothache, fillings, crowns or even extraction.
Dr. Medhat Dawoud, and his associate dentist, Dr. Paula Gencarelli, concur with what the American Dental Association recommends: brush your teeth twice a day for 2 minutes. Brushing removes much of the biofilm, sticky plaque, food residue and hard tartar, that accumulates on tooth surfaces, at the gum line and between teeth. Flossing daily cleans areas brushing cannot reach.
What's the best way to brush?
Dr. Dawoud teaches his patients to choose a good quality toothpaste. While whitening and breath freshening ingredients are nice to have, the most important component of toothpaste is fluoride, a proven cavity fighter. Also, Dr. Dawoud advises using a soft-bristled toothbrush, replacing it every 3 months for wear and after a cold or the flu as needed.
When starting to brush, apply a ribbon of toothpaste the length of the toothbrush head. For young children, parents should apply a pea-sized amount of toothpaste and supervise the process until kids are past the age of 8 and have sufficient dexterity to brush and floss solo.
Next, place the bristles at a 45-degree angle to the tooth surfaces at the front of the mouth, and using short strokes, brush back and forth, slowly going to the back of the mouth and the other side. Proceed to the chewing surfaces of the teeth, being careful not to neglect the backmost molars. Then, finish with the inside surfaces of the teeth, using up and down strokes of the brush.
Be sure to take a full 2 minutes to brush your teeth. You might even set a timer or use your phone for a week or so to be sure you are spending enough time brushing.
In addition, gently but thoroughly brush the soft tissues of your mouth, including gums, tongue and the roof of the mouth. This eliminates additional plaque and bad breath, too. Lastly, rinse with water. Mouthwash is fine but not necessary.
Always follow-up toothbrushing with flossing on a daily basis. Visit your West Orange, NJ dentist every 6 months for a complete oral examination, x-rays as warranted and a professional cleaning to remove biofilm that toothbrushing and flossing and home miss.
Contact the D & G Dental of West Orange
Learn more about good oral hygiene when you come to see Dr. Dawoud or Dr. Gencarelli. They will be happy to teach you best oral hygiene practices to keep your smile healthy and shining.