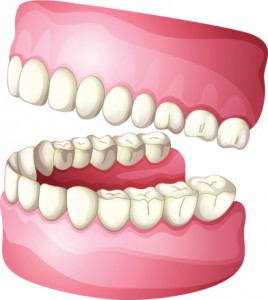 Many people think that as long as their smiles are aligned and white, their smiles are healthy. Although both are definitely appealing when it comes to smiles, your teeth are not the only component in making sure your smile is in optimal health. Having healthy gums are essential to having a healthy smile, and many people are not aware of that fact. Periodontal disease is definitely something that should be handled immediately, as it has the potential to cause harm to other areas of your body. Luckily, Dr. Medhat Dawoud is able to tackle your periodontal disease by offering periodontal disease therapy at his West Orange, NJ dental office.
Many people are not even aware of the fact that they have periodontal disease, allowing it to take over their mouths and wreak havoc on their smiles. If left untreated, periodontal disease has the potential to cause heart disease, bone loss, tooth loss, dementia, stroke, and other awful occurrences. If you are unaware as to whether or not you are living with periodontal disease, a couple of side effects include red and swollen gums, gums that bleed when you brush or floss, bad breath, and tender gums. It is important to contact our office immediately if you are suffering from any of these symptoms.
One way Dr. Dawoud is able to handle your periodontal disease is by scaling and root planing. This allows us to remove the harmful bacteria from below and along the gum line. Dr. Dawoud will also be able to smooth out your tooth's root that has been roughened by the bacteria in your smile. This deep cleaning will put you back on the track to excellent oral health! If you feel as though you are suffering from periodontal disease and would like Dr. Dawoud's help, contact our office today!
If you are ready to make an appointment with Dr. Medhat Dawoud or Dr. Ghobadi, contact our West Orange, NJ dental office to make an appointment. We are happy to take care of whatever general, cosmetic, and restorative dental need you may have. We are proud to serve patients in West Orange, Verona, Livingston, Bloomfield, Montclair, and the surrounding New Jersey communities.