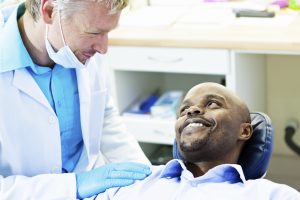 Every June, medical professionals celebrate men's health month in the US. This month-long celebration gives our team the opportunity to offer educational resources to help men improve the oral and whole body health. At D&G Dental of Caldwell and West Orange, we invite our male patients to call to schedule a dental checkup this month if it's been more than six months since your last appointment. Studies indicate that men are significantly less likely to maintain their regular preventive dental care appointments, so what better way to celebrate men's health month than with a visit to our Caldwell dentistry office.

Men's Dental Health Services
Every patient at D&G Dental receives a customized treatment plan to meet their unique oral health care needs. Since men are almost twice as likely as women to experience tooth decay, gum disease, and dental trauma, your regular dental exams and teeth cleanings will focus on monitoring your smile for warning signs of these oral health concerns and partnering with you to keep your smile healthy. Some things that can increase your risk for oral health issues include:
Dry mouth often caused by medications and prevalent among men 50 and older
Low testosterone levels can increase risk for gum disease
Deep pits and grooves in larger teeth can be difficult to clean
Ineffective at-home hygiene
Failing to use sportsguards to protect teeth during athletic practice and competition
If any of these things apply to you, our team can help you create an ongoing care plan to address oral and overall health issues immediately and avoid advanced dental health concerns.
Maintaining Healthy Smiles At-Home
We only get to see you twice a year (if that), so your at-home hygiene routine plays a significant role in whether or not you'll be able to maintain your oral health. The following are tips to keep your smile healthy:
Brush teeth for at least two minutes at a time
Brush at least twice a day, but add brushing between meals for best results
Brush gently using a soft bristled toothbrush – aggressive brushing won't remove more plaque and may damage gums
Floss at least once each day to remove plaque and tartar buildup between teeth
Use sportsguards to protect teeth during athletic events and competitions
Don't use teeth as tools to open packages or crack nuts
Meet the D&G Dental Team
The D&G Dental team invites you to celebrate men's health month in one of our two state-of-the-art dentistry practices in Caldwell and West Orange. We offer a wide range of preventive, restorative, and cosmetic dentistry services to deliver healthy smiles that will last a lifetime. If you haven't kept up with your daily hygiene at-home or biannual dental exams in the past, men's health month is a great time to make a new start. Let the D&G Dental team help you achieve the optimal level of oral health and keep it for life. Call to schedule your dental exam and teeth cleaning with our caring dentists and dentistry team today.