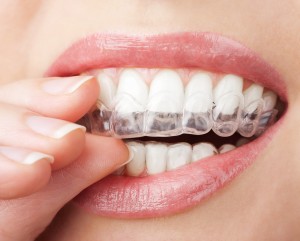 Not being able to be completely confident in your smile is something that is never easy to live with. Whether it is the color of your smile or the minor imperfections, having insecurities about the way you look is never an easy thing to go through. For many people, they are unhappy with the alignment of their smile. They may have considered braces, but immediately turned away because of the thought of having a mouth full of metal. Because many people consider a smile a first impression, it is important to make sure your first impression is always flawless. In order to help their patients achieve a great, aligned smile, Dr. Medhat Dawoud and Dr. Ghobadi offer their patients Invisalign.
Invisalign has been able to help thousands of people achieve the smile of their dreams through a series of aligning trays. Each tray signifies a stage in your straightening process, and as time goes on, and with the more trays you use, your smile gradually gets straighter. One of the biggest advantages to Invisalign is the fact the trays sit nearly invisibly on your smile. You are able to look like your natural self all while getting the orthodontic treatment you deserve. Your aligning trays are custom made just for you, that way your treatment is personalized. Invisalign can be used to treat overbites, underbites, crossbites, crowding, and spacing.
Another great thing about Invisalign is that you are able to experience better oral hygiene and health with this form of orthodontic treatment. Whenever you need to eat, drink, brush, or floss, simply remove the tray and reapply when needed! If you want our doctors to help you achieve a beautifully straight smile with Invisalign, contact our office today!
If you are ready to make an appointment with Dr. Medhat Dawoud or Dr. Ghobadi, contact our West Orange, NJ dental office to make an appointment. We are happy to take care of whatever general, cosmetic, and restorative dental need you may have. We are proud to serve patients in West Orange, Verona, Livingston, Bloomfield, Montclair, and the surrounding New Jersey communities.