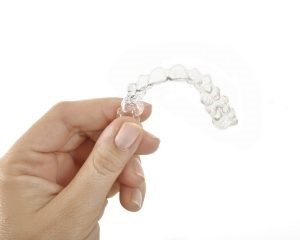 When it comes to getting a straight smile, teens and adults have come to quickly prefer Invisalign as a sophisticated treatment. The use of clear aligners allows you to align your teeth without metal wires or brackets. Although several advancements have been made in orthodontics over the last few years, the clear aligners continue to lead the pack when it comes to moving your teeth into their correct position. Now, the treatment offers more benefits than ever before due to new features.

Choose Invisalign for a Straight Smile
Invisalign uses a series of custom-made aligners that are worn over the teeth to gradually move them into position. This offers a less noticeable treatment while allowing you to finish the series in about a year. When used on the ideal candidate, they offer the same high-quality and lasting results of traditional braces without the restrictions or irritation of traditional braces.
Supported by 20 years of clinical evidence and the treatment of more than 4 million cases, it continues to be the preferred orthodontic solution. Now, new advancements make it better than ever before as one of the most popular treatments in cosmetic dentistry.
Faster Treatment Times
In the past, each aligner in the series was worn for about two weeks. However, it is now recommended that they are switched weekly. By doing so, your teeth will move into position even faster. As a result, you can benefit from 50% faster treatment times so you can have a straight smile in just a few months.
Effective Results
New SmartTrack material and SmartForce features allow you to enjoy a better treatment process. Now, the new technology improves the predicted tooth movement by up to 75%.
Enhanced Comfort
The use of SmartTrack material makes the aligners more comfortable than ever before. They are now better fitting so you do not have to worry about irritation. In addition, they are easier to take on and put off to simplify the treatment process.
Treats an Array of Cases
Now, Invisalign can be used to treat complex cases; whereas, it was not an option in the past. The SmartForce features and new material allow the teeth to be moved with precision, allowing it to be effective for a wide variety of cases.
Perfect for Teens
The clear aligners now make it easier for teens to maintain their treatment. They feature compliance indicators, which fade from blue to clear to help them stay on track of their wear time.
Get a Straight Smile Today
If you are ready to invest in your teeth with orthodontics, it is time to choose the most preferred treatment with Invisalign. Your dentist will perform the necessary consultation to start your journey to a straight smile.
About D & G Dental
D & G Dental is committed to providing complete dental care using the best technology. In addition to general dentistry, they provide many areas of specialty services, such as orthodontics. If you have any questions about Invisalign, contact our office today to schedule a consultation.