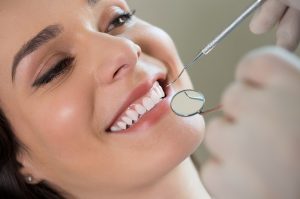 If you have a severely damaged or abnormally shaped tooth, your dentist has likely recommended that you receive a dental crown. This procedure is routinely used to restore a tooth's health, function, and appearance. While it is very beneficial, many can be hesitant to undergo the treatment due to the preparation process. It involves multiple steps that permanently alter its structure. However, you have nothing to fear. The treatment is quickly and carefully performed to promote your dental health.

Dental Crown Procedure
Prior to starting the procedure, your dentist will perform a visual examination and take diagnostic images to create a customized treatment plan. Generally, you can expect the entire process to take about two appointments.
Step 1: Remove Old Fillings or Decay
If you have an old filling or crown, it will first need to be removed before the new crown can be placed. Your tooth will also be assessed for damage or decay, which will need to be removed. In some cases, you may need an additional procedure, known as a root canal, prior to placing the protective cap.
Step 2: Build a Foundation
In some cases, your dentist may need to build a foundation for the crown. This is common if the tooth is broken or damaged. A special material is used to provide added support for it, often referred to post-and-core-foundation.
Step 3: Reshape the Tooth
To ensure a proper fit, your tooth will be reshaped by removing small amounts of its structure. This is important to prevent the underlying tooth from becoming damaged while promoting a more successful procedure.
Step 4: Impressions
To create your custom-made crown, impressions are needed. These are sent to the dental lab, where your restoration will be made with precision and accuracy according to your specifics in terms of size, shape, and color.
Step 5: Place the Temporary Crown
While the lab makes your restoration, your dentist will attach a temporary crown. This allows your tooth to remain protected while you wait for it to be sent back to the dental office.
Step 6: Placing the Crown
After the permanent crown is ready, you will return to your dental office to have it bonded to your tooth. The temporary one is removed, and a cement is used to attach the final one. Your dentist will check the fit and size to ensure that it meets your requirements.
Dentist Near Me for a Dental Crown
If you need a dental crown, find a dentist in your area who specializes in restorative dentistry while also embracing the latest technological advancements. With the right skills and qualifications, you will have a high-quality restoration that will last for several years with the right care.
About D & G Dental
D & G Dental strives to provide complete dental care from one location. Using the most advanced technologies, our qualified team offers the services you need for a healthy, beautiful smile. If you need a dental crown, contact our office today to schedule your consultation.