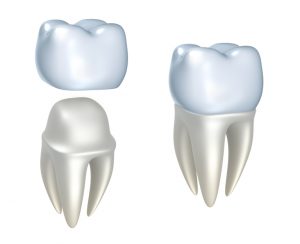 Dental crowns hold a very common place in restorative and cosmetic dentistry due to their diversity. Often, dental crowns are used to protect a tooth that has become damaged or weakened. In some cases, crowns are placed over teeth to give them a more natural appearance, such as teeth that are abnormally shaped. Crowns can also be used to restore the health and function of a tooth that has experienced trauma. It is not unusual for crowns to be used in combination with other dental procedures, such as root canals and dental bridges. Not matter the reason for needing a crown, many are concerned with the longevity of a crown. As your dentist in West Orange, NJ, we offer dental crowns for a variety of reasons. We understand you may be concerned about the length of time a crown will last. We have the facts you need to know to ensure your crown lasts as long as possible.

How Long Do Dental Crowns Last?
There are several factors that impact how long a dental crown will last, such as the dentist who placed it, the tooth it was placed on, and the material used for the crown. Typically, a crown will last 10 to 15 years with the right care. However, it is not unusual for a dental crown to last 25 years or longer. There are several things you can do to help ensure your crown lasts for as long as possible.
The length of time your crown lasts starts with the dentist who placed it. If the crown was placed by a high-quality dentist, such as our team at D & G Dental, your crown is more likely to last longer. In addition to the dentist who placed the crown, how you care for the crown is also important. While the crown is not subject to decay, the underlying tooth remains susceptible. You need to practice proper oral hygiene and pay extra attention to floss around the crown well.
You need to avoid placing added stress on the crown, which is a leading reason crowns need replaced. Do not bite on overly hard objects or foods, do not grind your teeth, and do not use the teeth as tools. Excessive pressure will cause the crown to become damaged.
The material your crown is made from will also impact how long your crown lasts. However, advancements in dentistry now make crowns more durable than ever no matter the material used.
Your Dentist for Dental Crowns
At D & G Dental, we provide dental crowns in West Orange, NJ. No matter if you need a new dental restoration or a previous restoration has become damaged, we will provide you with a high-quality crown that is durable and reliable. We offer all-ceramic restorations for dental crowns that blend in seamlessly with your natural teeth. You will restore oral functions and protect your tooth from damage with the best dental crowns.
If you are in need of a dental crown, contact D & G Dental to schedule an appointment.