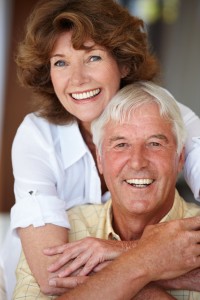 Facial trauma, insufficient dental care or simple genetics — they can all play a role in tooth loss. But whatever causes gaps in a smile, the next steps remain the same: a sturdy, beautiful replacement must be sought. Dental implants are by far the best way to complete a smile — and at D&G Dental, Dr. Dawoud and his team perform the whole procedure under one roof. Keep reading to find out more today!
Dental Implants West Orange: The Best Choice in Tooth Replacement
It's rare that you find a dental practice that can perform the entire dental implant procedure, but Dr. Dawoud is the rare exception. He's got the experience and training necessary to provide West Orange neighbors with the quality comprehensive tooth replacement you just won't find anywhere else.
Questions about dental implants? Here are the answers to three of the most common.
Q: Why Are Dental Implants the Preferred Solution?
A: When you're missing a tooth, you're missing more than just the visible portion — you've also lost its root. So why would you choose a replacement option that only gives you back half? Dental implants are the only thing that replaces the tooth and its root, which is key for your continued oral health.
Q: How Are Dental Implants Placed?
A: The procedure for dental implants is performed in two to three visits to Dr. Dawoud. For the initial placement of your dental implants, Dr. Dawoud places one tiny titanium post for each missing tooth. A recovery period of up to six months is necessary for the jawbone to completely fuse with the implant, a process known as osseointegration.
After the implants have become osseointegrated, they're super stable and ready for Dr. Dawoud to attach the new tooth replacement. The result? A beautiful, natural-looking smile you won't ever want to hide again.
Q: Are Dental Implants Worth the Investment?
A: Once you've already lost one or more teeth, nothing prevents more tooth loss like dental implants. The prosthetic tooth root provided by implants keeps the jawbone from degenerating, something you just don't get with other tooth replacement options. Additionally, when cared for properly, dental implants can easily last a lifetime. So when it comes to whether or not they're worth the investment, the answer is simple: yes.
Schedule Your Appointment with Dr. Dawoud Today
If you're interested in completing your smile with dental implants, don't hesitate to contact the office of Dr. Dawoud. We're here to help our New Jersey neighbors achieve the beautiful, complete smile everyone deserves. Book your appointment today!