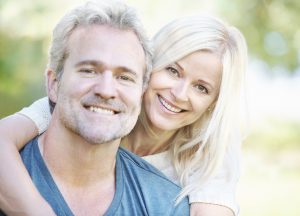 Missing teeth can impact your life in so many ways. Unfortunately, most of them are not pleasant. Sharing your smile may be mostly embarrassing; eating foods such as a juicy steak or a firm apple may be next to impossible; and even speaking clearly can be difficult depending on which teeth you're missing. Dental implants, on the other hand, can have a very pleasant impact. The difference they can make may be nothing less than life altering. For dental implants in West Orange, visit the dentists and their staff at D & G Dental. We'll be glad to discuss teeth replacement with you.
Smile Big, Smile Often
Your smile speaks a language all its own. Without uttering a word, you tell someone that you're happy, outgoing and friendly. In fact, research shows that when people are being interviewed, the interviewer knows within seconds whether or not the person is right for the job and that is largely based on a first impression, i.e. your smile. In this way, completing your smile with dental implants can lead to career advancement. Similarly, your smile may be the entry you need to start a new and loving personal relationship.
In addition, dental implants can positively impact your oral and general health. When you have tooth loss, the likelihood of having other dental problems increases. There is a greater risk of decay, gum disease and even additional tooth loss. Gum disease itself is the leading cause of tooth loss among adults in the United States and is sometimes connected to other maladies such as diabetes and high blood pressure. Thus, tooth replacement with dental implants can be the key to ensuring your smile as well as your overall well being.
Receiving Dental Implants in West Orange
At D & G Dental, we have an oral surgeon on our team to expertly place dental implants. Dr. Ghobadi specializes in oral and maxillofacial surgery, implants, grafting and sedation dentistry. He attended the University of Medicine and Dentistry of New Jersey, and then went on to complete a residency in oral surgery at St. Joseph's Hospital and Medical Center, where he currently holds the position of Chief of Implant Dentistry. Dr. Ghobadi will plan and place your dental implants. After healing, you'll return to see one of his dental colleagues who will complete the process with a lifelike restoration.
Contact Our Office Today
Dental implants may be the ideal solution for your tooth loss and may also set your life on a new course! Call D & G Dental in West Orange today to schedule a consultation. We are your "dentist near me."