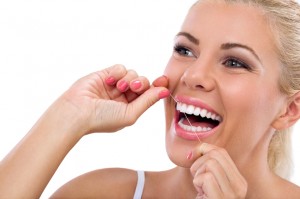 Flossing is one of the most important general dentistry practices you can do at home. Much like brushing, it helps keep our teeth clean and healthy. People from all over the country wake up, brush their teeth, go to work, come home, eat, brush their teeth again, and repeat. But, how many of those patients are doing it the right way? Yes, there is a right and wrong way to floss, just like brushing. In order to help keep your teeth looking and feeling clean, you must know how to properly floss.
Our West Orange, NJ office wants you to practice great dental hygiene at home, especially when it comes to flossing. Our dental team wants you to know just how important it is to floss and do it properly. Ask yourself this question, "Am I flossing correctly?" If you're unsure, it's okay! There's no harm in helping our patients practice proper flossing techniques. The sooner you start utilizing our helpful tips, the better off your oral health will be.

Flossing – Why is it So Important?
You like your teeth looking and feeling clean, right? Everyone wants a smile that not only looks gorgeous, but feels that way, too. Flossing can help you get that shine that you're looking for. Think about what you ate the previous night. Unless you flossed before going to bed, there are tons of miniscule foot particles that sit and rot away in your mouth while you sleep. Gross, right?
Flossing is easy to do, but it requires time and dedication. It helps keep gum disease out of your mouth, too. Plaque buildup and other issues are kept at bay when you floss. Your toothbrush can reach only so far and attack certain places – that's where flossing comes in. It's almost impossible to brush in between teeth. Floss is thin for a reason – the space between teeth is so small that only floss can reach it.
We, along with the American Dental Association, recommend the following flossing technique:
Use up to 18 inches of floss and wrap it around both middle fingers. Be sure to leave a one-to-two inch length in between so you have plenty of leverage.
Glide floss gently in between the lower and upper. Please note: bleeding is normal.
Slide floss across the tooth's surface as well as using up-and-down motions. Be sure to get underneath the gum line as this is where a majority of plaque buildup occurs.
Flossing isn't a difficult task to complete, it just takes dedication and time. When you partner with our dental professionals, we can help you achieve fantastic oral health.
Schedule a Checkup, Too
Flossing and brushing is great, but it can't take care of everything alone. You need to come into our office for a general checkup every six months so we can keep a close eye on everything that's going on in your mouth. Our West Orange, NJ office is happy to see any patients and suggest the best oral hygiene practices. We welcome everyone from Caldwell to Clifton and in between to visit our office today!